It's probably my fault for reviving the subject.  Like Peter I couldn't find the photo at the time.  I came across one later while looking for a photo of a Skylark in colourful swamp-marsh growth, for a talk.  Werribee is a good place for Skylarks, perhaps the Australian headquarters.  I do also have a photo of a Skylark on a post.  Also on barbed wire showing its remarkably long hind-claws. So far as I can find in the books, the purpose of these is unknown. Perhaps someone on this list will know.
Geoffrey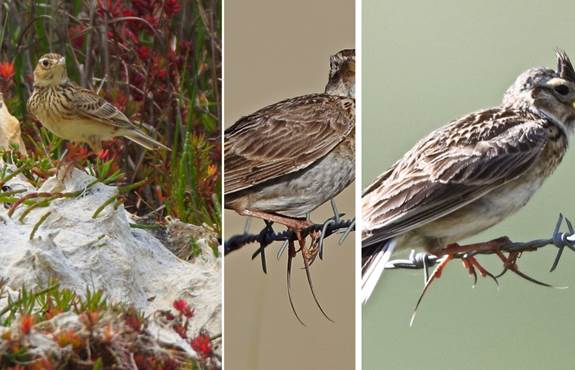 From: Birding-Aus <> On Behalf Of Chris Gregory
Sent: Saturday, 9 February 2019 4:26 PM
To: Philip Veerman <>
Cc: birding-aus <>
Subject: Re: [Birding-Aus] FW: Pelicans on posts
How delightfully metaphysical this thread has become. It begs the question "How many Pelicans and/or Cormorants can fit on top of a Werribee post?"
On Sat, 9 Feb 2019 at 15:41, Philip Veerman <> wrote:
I don't know why this message, sent 2.5 hours ago has not come through. So I will try again. So to be a bit more concise. In the quote, "I think it was originally supposed to be for cormorants" I took the "it" as the conversation (that being the immediate prior noun) and assumed Peter could not find my original post. Dave took the "it" as the structure. Peter intended the "it" as the structure.

Philip

I meant that the perches in Geoffrey's photo were originally intended to be used by cormorants.

Peter Shute

Ha ha. Isn't that funny. I took Peter's question as asking to confirm: "when this conversation started………. I think it was originally supposed to be for cormorants" as being a question about the conversation and I was partly influenced by that someone did comment about cormorants perching on poles. However Dave it appears is taking the question as related to "I think it was originally supposed to be for cormorants" as a comment on possible purpose of that particular structure. Hardly needs saying that I know nothing about that particular structure and so was only thinking in terms of my original general question about why Pelicans perch on poles.

Philip

No! It was me who started it with my post on Sat 19-Jan-19 6:26 PM, with the alliterative "Pelicans perching on poles". Inspired by light poles at Batemans Bay and elsewhere. My enquiry was about why such big birds without the benefit of feet adapted to perching, would bother to do this, as it just looks so incongruous. My best answer is they mainly do it to avoid being bothered by people and dogs walking past. Applying the issue to cormorants is not that interesting, as they are not so big and routinely perch on trees.

Philip

From: Birding-Aus [mailto:m("birding-aus.org","birding-aus-bounces");" target="_blank">] On Behalf Of Dave Torr Sent: Saturday, 9 February, 2019 12:39 PM To: Peter Shute
Cc: birding-aus Subject: Re: [Birding-Aus] Pelicans on posts

My understanding was that it was built because the lagoon where it is situated is full of dying trees which are used by cormorants. My experience is that it is quite often empty and I think the trees still have cormorants in them - although it is not possible to get close to the lagoon to see.

I was told by an employee that it cost around $100k to build.....

I went looking for a photo of that when this conversation started, but couldn't find one. I think it was originally supposed to be for cormorants. Can anyone confirm that?

Found this while looking for something else. Werribee 2012. Purpose-built, evidently.

Geoffrey

<HR>
<BR> Birding-Aus mailing list
<BR> m("birding-aus.org","Birding-Aus");" target="_blank">
<BR> To change settings or unsubscribe visit:
<BR> http://birding-aus.org/mailman/listinfo/birding-aus_birding-aus.org
</HR>
<HR>
<BR> Birding-Aus mailing list
<BR> 
<BR> To change settings or unsubscribe visit:
<BR> http://birding-aus.org/mailman/listinfo/birding-aus_birding-aus.org
</HR>