By contrast with the snowy white spoonbills, the ibis presented themselves in a range of earth colours. One can only wonder where all of it had come from. A few stories there, I would think.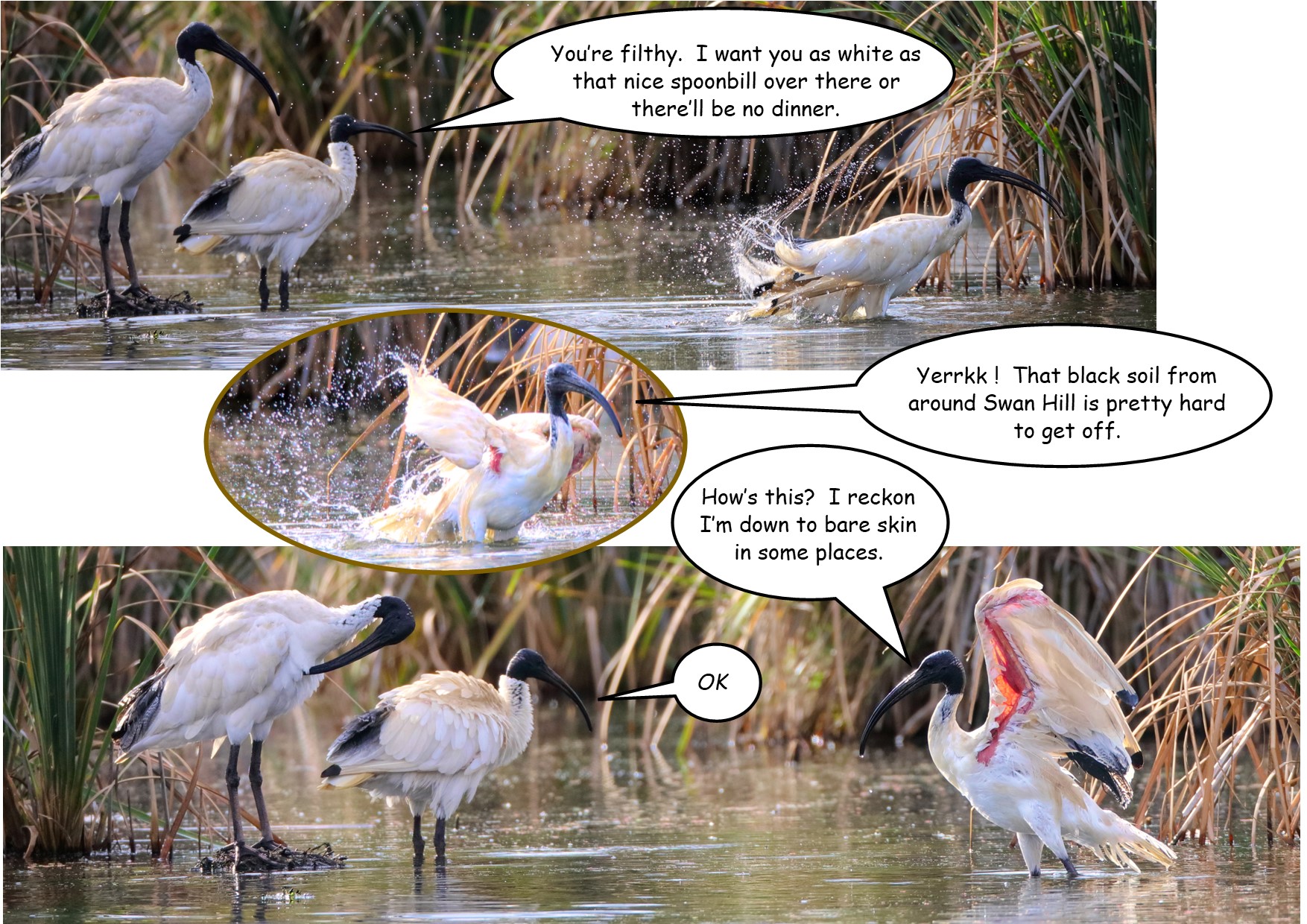 From: Canberrabirds <> On Behalf Of Geoffrey Dabb
Sent: Friday, April 7, 2023 7:33 AM
To: 'shorty' <>
Cc: 'Canberrabirds' <>
Subject: Re: [Canberrabirds] FW: Royal Spoonbills
Very unusual, must have been great breeding conditions inland, as suggested by all the ibis, too. I wouldn't try to outcount Shorty. Among the dozen or so I got a close look at only a couple were not young birds. Two on left below are young birds, one showing dark feather shafts. In the bird on right the yellow patches above eyes are visible, HANZAB giving this as indication of non-breeding adult.
From: shorty <>
Sent: Thursday, April 6, 2023 2:45 PM
To: Geoffrey Dabb <>
Cc: Canberrabirds <>
Subject: Re: [Canberrabirds] FW: Royal Spoonbills
On Mon, Apr 3, 2023 at 10:23 AM Geoffrey Dabb <> wrote:
Once again Shorty showed he knows how to be in the right place at the right time. It was such a calm, mildly sunlit Sunday afternoon I accepted his tip and went there for a few minutes. At that time the spoonbills had decided to doze off, with heads of only a small number just visible above the reeds as sub-tenants of the ibis at Dead-Tree Roost (east). Tenants at Dead-Tree Roost (west) included at least 17 Little Black Cormorants, with more of them on the water, at least 25 altogether. I didn't progress much further but found a Fuscous Honeyeater (non-breeding condition) plunge-bathing in front of Cygnus. A snap from Dairy Road of a small section of the Forbidden Ponds showed, when subject to a later count, 24 pink-ears, 4 black swans, 6 grey teal, 23 shovelers, 3 silver gulls, 4 coot, 2 hardheads, 3 black duck, 7 unidentified waterbirds.

From: Canberrabirds <> On Behalf Of shorty via Canberrabirds
Sent: Sunday, April 2, 2023 12:22 PM
To: Canberra birds <>
Subject: [Canberrabirds] Royal Spoonbills

Hi all,

I stopped into Jerra Wetlands just to take a look at the Southern end of Kelly's and there were 12 juveniles and when I left there were 15. Highest count I have of them in Canberra.

--
This is the email announcement and discussion list of the Canberra Ornithologists Group.
Emails posted to the list that exceed 2 MB (2,000 kB) in size, including attachments, will be rejected.
All emails distributed via the list are archived at http://bioacoustics.cse.unsw.edu.au/archives/html/canberrabirds. It is a condition of list membership that you agree to your contributions being archived.

Canberrabirds mailing list

https://lists.canberrabirds.org.au/mailman/listinfo/canberrabirds

ATT00001.txt
Description: ATT00001.txt