| | | |
| --- | --- | --- |
| | canberrabirds | |
Fwd: Bird deaths from window collision query
| | |
| --- | --- |
| To: | "" <> |
| Subject: | Fwd: Bird deaths from window collision query |
| From: | Robin Eckermann via Canberrabirds <> |
| Date: | Sun, 26 Mar 2023 04:20:25 +0000 |
Our situation is a bit unique - we have and entry foyer with a wall of glass on each side - so birds can see through to trees etc on the other side and its tempting for them to take a short-cut.

After lamenting quite a few window collisions - many with fatal outcomes - I loosely strung 5 or so trands of fishing line between two chain drains that are located about 3m in front of the window. They were not in place at the time this picture was taken (from inside), but you get the idea.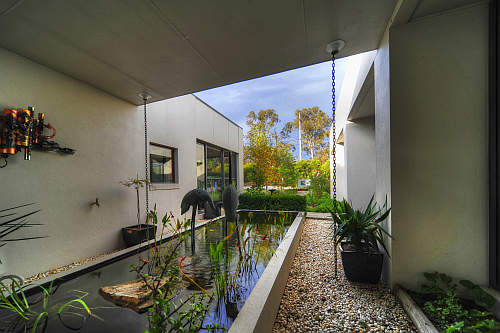 I'm not aware of any collisions since putting this deterrent in place. The fishing line is barely visible - but (at worst) if birds fly into it, the result is a "soft" collision because the dangling chains give the fishing line some additional "elasticity". Birds don't get entangled, and the locals seem to quickly learn its not a viable short-cut. Obviously this approach only suits windows where it is feasible to place the fishing line some distance in front of the windows.
Prior to this, I tried a fake raptor suspended from the overhang - but the birds seemed to overcome any fear of it fairly quickly.

Regards ... Robin Eckermann
Phone: 02-6161-6161 (w) 0418-630-555 (m)
--
Hello all

Please see the email below from David. What methods have members used successfully to overcome this problem?

Thank you for your advice.

Margaret Robertson


Admin
The University of NSW School of Computer and Engineering takes no responsibility for the contents of this archive. It is purely a compilation of material sent by many people to the Canberra Ornithologists Group mailing list. It has not been checked for accuracy nor its content verified in any way. If you wish to get material removed from the archive or have other queries about the list contact David McDonald, list manager, phone (02) 6231 8904 or email . If you can not contact David McDonald e-mail Andrew Taylor at this address: andrewt@cse.unsw.EDU.AU