| | | |
| --- | --- | --- |
| | canberrabirds | |
A breeding event
| | |
| --- | --- |
| To: | Lindell Emerton <>, Canberra Birds <> |
| Subject: | A breeding event |
| From: | Robin Hide via Canberrabirds <> |
| Date: | Mon, 5 Dec 2022 04:41:23 +0000 |
Similar event here with a pair of Gang gangs in Ainslie on our powerlines two days ago.
Robin
From: Canberrabirds <> On Behalf Of Lindell Emerton via Canberrabirds
Sent: Monday, 5 December 2022 3:37 PM
To: Canberra Birds <>
Subject: [Canberrabirds] A breeding event
6.30am I opened the Family room curtains today and this was my early morning greeting.
These two are regular visitors to our garden. They call in most days in search of seed that I may or may not put out for them and their other parrot friends. After seeing this my question is - how long need I wait for these two to introduce their newly fledged offspring? That is supposing they find a suitable nesting hollow and are successful at rearing their chicks.
The closest nesting hollows that I know of are up on Red Hill.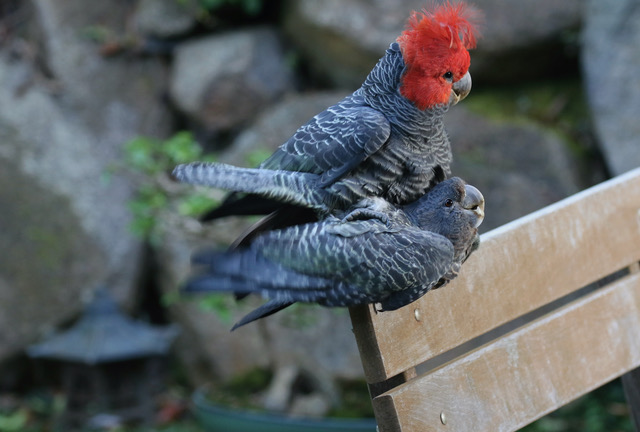 ATT00001.txt
Description: ATT00001.txt
Admin
The University of NSW School of Computer and Engineering takes no responsibility for the contents of this archive. It is purely a compilation of material sent by many people to the Canberra Ornithologists Group mailing list. It has not been checked for accuracy nor its content verified in any way. If you wish to get material removed from the archive or have other queries about the list contact David McDonald, list manager, phone (02) 6231 8904 or email . If you can not contact David McDonald e-mail Andrew Taylor at this address: andrewt@cse.unsw.EDU.AU