Thanks Jack and Wayne. Interesting about the wetlands at Tumut. I was recently thinking about interesting local spots associated with waterbird movements. I was looking at Google Earth imagery and selected a 'historical' image (December 2005) that indicated the hydrology of the floodplain better than the current view. I believe there is an old watercourse that begins in the slopes down to the river on the northern side of Fyshwick (A). (The paddocks there used to be a good spot for skylarks.) The watery depression then runs through the turf farm and under the highway. After high rainfall it forms that shallow ponding where waterbirds can be seen on the east side of the highway when you drive south (B). On the west side of the highway, in between the turf farm (west) and the forbidden sewage ponds there is usually quite deep water where waterbirds can be found (C). This is outside the forbidden zone but is difficult to access because of the dense vegetation. It is probably part of the turf farm lease. The watercourse then passes under Dairy Road and enters JWNR. It passes by Shoveler Pond, possibly being the present source of water for that depression (D). The watercourse then becomes one of the palaeo-channels (E), eventually entering Jerrabomberra Creek. It seems interesting that what we now see as separate watery patches of occasional birdy interest are part of one structure that might represent an ancient course of the Molonglo River. I wonder whether it should have a name.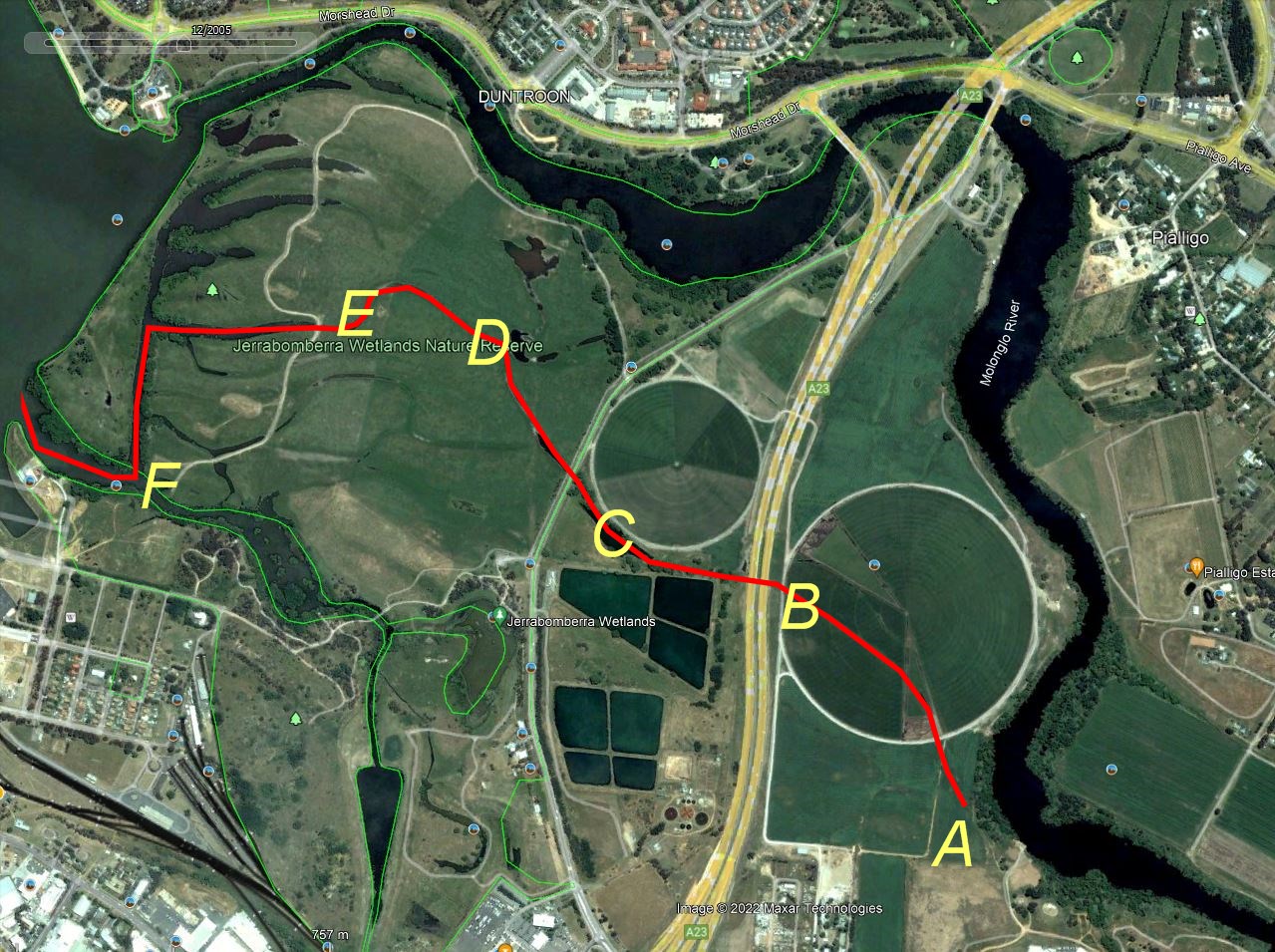 -----Original Message-----
From: Canberrabirds <> On Behalf Of jandaholland--- via Canberrabirds
Sent: Thursday, 1 September 2022 5:00 PM
To: 'Canberra birds' <>
Subject: FW: Tumut wetlands
Hello subscribers, I am passing on this information from Wayne Gregson about the above in case anyone is thinking about visiting Tumut. Jack Holland
-----Original Message-----
From: wgregson <m("tpg.com.au","wgregson");">>
Sent: Thursday, 1 September 2022 4:49 PM
To: m("bigpond.com","jandaholland");">
Subject: Tumut
Hi Jack
you might want to pass this on to COG members !
I went over to Tumut today for a couple of reasons and intended to do a walk through the wetlands. Unfortunately the wetlands are off limits at present with signs warning it is a "contaminated area" .
I didn't attempt to find out why/what. It would be wise for anyone thinking of visiting to check with the local council first.
cheers
Wayne
--
This email has been checked for viruses by AVG antivirus software.
--
This is the email announcement and discussion list of the Canberra Ornithologists Group.
Emails posted to the list that exceed 2 MB (2,000 kB) in size, including attachments, will be rejected.
All emails distributed via the list are archived at http://bioacoustics.cse.unsw.edu.au/archives/html/canberrabirds. It is a condition of list membership that you agree to your contributions being archived.
Canberrabirds mailing list
m("lists.canberrabirds.org.au","Canberrabirds");">
https://lists.canberrabirds.org.au/mailman/listinfo/canberrabirds