| | | |
| --- | --- | --- |
| | canberrabirds | |
Emailing: 1-DSC_4582-2.jpg
| | |
| --- | --- |
| To: | 'Peter Cranston' <>, 'Kim Farley' <> |
| Subject: | Emailing: 1-DSC_4582-2.jpg |
| From: | Bill Hall via Canberrabirds <> |
| Date: | Thu, 17 Mar 2022 02:57:02 +0000 |
And Jacky Lizard too.
Bill Hall
From: Canberrabirds <> On Behalf Of Peter Cranston via Canberrabirds
Sent: Thursday, 17 March 2022 1:47 PM
To: Kim Farley <>
Cc: Canberra Birds <>
Subject: Re: [Canberrabirds] Emailing: 1-DSC_4582-2.jpg
Wiki suggests it is called the 'hairy mary' caterpillar, but not the same as the famous HM of Hamish Imlach's Glaswegian song. A range of larger caterpillars (of large moths) are coming back in numbers including emperor gum moths, after years of scarcity. I too saw a fantailed cuckoo deal with a c. 8 cm long hairy mary yesterday, with minimal bashing to remove a few hairs and then down in one.

On Thu, Mar 17, 2022 at 1:23 PM Kim Farley via Canberrabirds <> wrote:
Wow. Thanks Lyndon. A few days ago I saw a Fantailed Cuckoo and then an Oriole catch and devour this same sort of caterpillar Good to have a name put to it. I've not seen it before.

On Thu, 17 Mar. 2022, 12:31 pm Lyndon Howe, <> wrote:

Not a bird but in an interesting subject for which I would appreciate an
I.D. Photographed on the path just along from Cygnus hide at Jerrabomberra
Wetlands. It was about 7 or 8 cms. long.
Lyndon Howe.

Your message is ready to be sent with the following file or link
attachments:

1-DSC_4582-2.jpg


Note: To protect against computer viruses, email programs may prevent you
from sending or receiving certain types of file attachments. Check your
email security settings to determine how attachments are handled.
--
This is the email announcement and discussion list of the Canberra Ornithologists Group.
Emails posted to the list that exceed 2 MB (2,000 kB) in size, including attachments, will be rejected.
All emails distributed via the list are archived at http://bioacoustics.cse.unsw.edu.au/archives/html/canberrabirds. It is a condition of list membership that you agree to your contributions being archived.

Canberrabirds mailing list

https://lists.canberrabirds.org.au/mailman/listinfo/canberrabirds

--
This is the email announcement and discussion list of the Canberra Ornithologists Group.
Emails posted to the list that exceed 2 MB (2,000 kB) in size, including attachments, will be rejected.
All emails distributed via the list are archived at http://bioacoustics.cse.unsw.edu.au/archives/html/canberrabirds. It is a condition of list membership that you agree to your contributions being archived.

Canberrabirds mailing list

https://lists.canberrabirds.org.au/mailman/listinfo/canberrabirds
Attachment: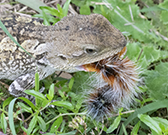 Description: Lizard and Caterpillar RED_DSC0376.jpg

ATT00001.txt
Description: ATT00001.txt
Admin
The University of NSW School of Computer and Engineering takes no responsibility for the contents of this archive. It is purely a compilation of material sent by many people to the Canberra Ornithologists Group mailing list. It has not been checked for accuracy nor its content verified in any way. If you wish to get material removed from the archive or have other queries about the list contact David McDonald, list manager, phone (02) 6231 8904 or email . If you can not contact David McDonald e-mail Andrew Taylor at this address: andrewt@cse.unsw.EDU.AU