| | | |
| --- | --- | --- |
| | canberrabirds | |
Ducking for the covers
| | |
| --- | --- |
| To: | 'Canberra birds' <> |
| Subject: | Ducking for the covers |
| From: | Geoffrey Dabb <> |
| Date: | Fri, 11 Mar 2022 00:16:40 +0000 |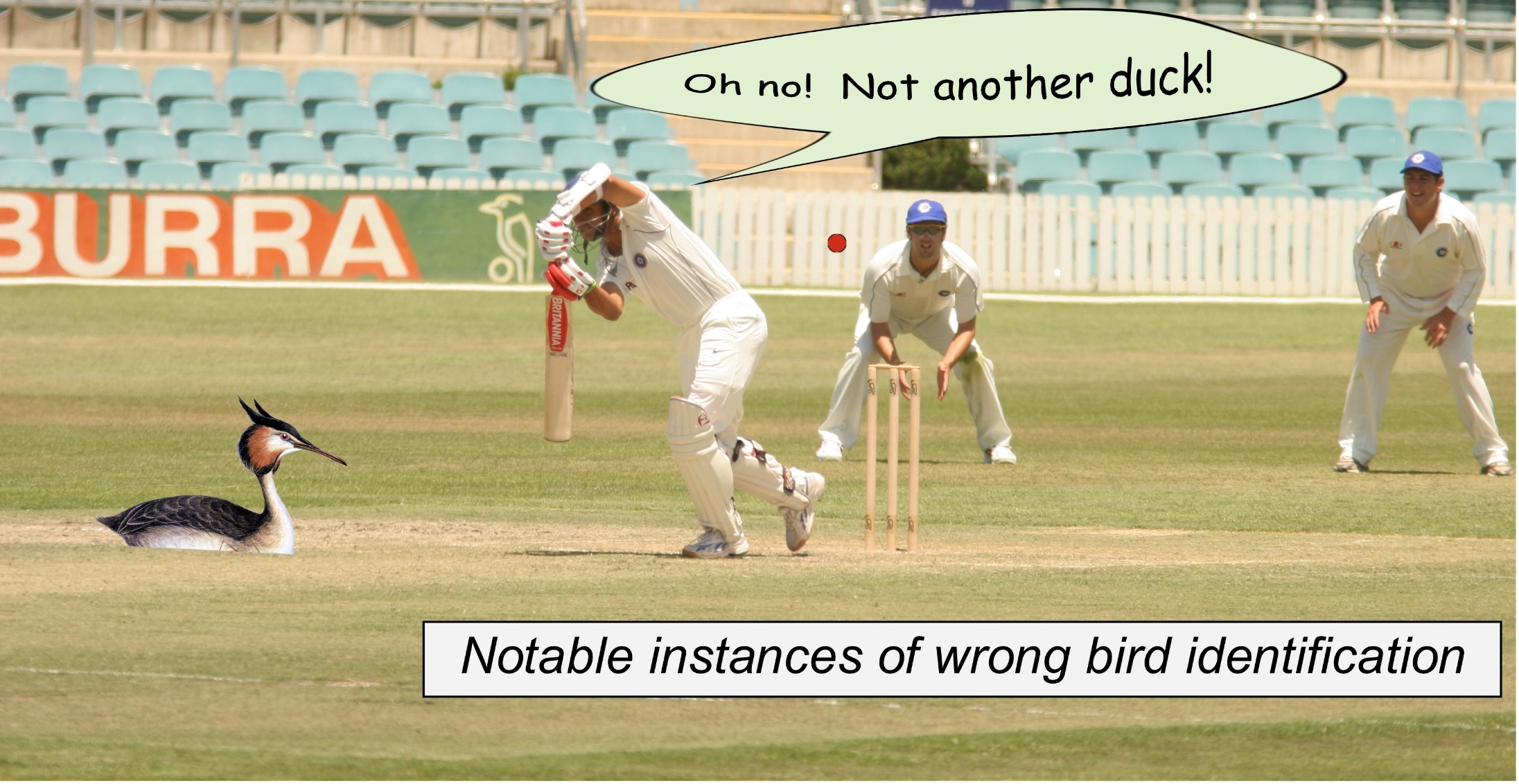 From: Canberrabirds <> On Behalf Of Alison Rowell
Sent: Thursday, 10 March 2022 6:25 PM
To: 'John Layton' <>; 'Canberra birds' <>
Subject: Re: [Canberrabirds] Ducking for the covers
Grebes also make this mistake with wet surfaces, but unfortunately can't take off from the ground and get stranded.
Alison R
From: Canberrabirds <> On Behalf Of John Layton via Canberrabirds
Sent: Thursday, 10 March 2022 6:06 PM
To: Canberra birds <>
Subject: [Canberrabirds] Ducking for the covers
Just an amusing little birding incident I witnessed at the Holt Playing Fields two Saturday mornings ago. Ground staff had placed covers over the wicket which were gleaming white under bright overcast and drizzle. Suddenly two Pacific Black Ducks glissaded down towards the covers, seemingly they'd mistaken the rain slickened material for a welcoming strip of water amid the manicured green sward. Immediately the leading duck's feet touched down it shot skywards again while its mate, following about 6 metres above, arched its wings and seemed to hang in mid-air ambivalence for an instant before following the other upstairs.
John Layton
Holt.

ATT00001.txt
Description: ATT00001.txt
Admin
The University of NSW School of Computer and Engineering takes no responsibility for the contents of this archive. It is purely a compilation of material sent by many people to the Canberra Ornithologists Group mailing list. It has not been checked for accuracy nor its content verified in any way. If you wish to get material removed from the archive or have other queries about the list contact David McDonald, list manager, phone (02) 6231 8904 or email . If you can not contact David McDonald e-mail Andrew Taylor at this address: andrewt@cse.unsw.EDU.AU