Members and chat line subscribers may be interested in this article by Russell McGregor, who was the main speaker at our virtual COG meeting in October. Jack Holland
From: McGregor, Russell <>
Sent: Friday, 10 December 2021 8:07 AM
To: Brennan, Claire <>; Rohan Lloyd <>; ; Greg Roberts <>; Vincent Lee <>; John Kooistra <>; Stapelbroek, Koen <>; Valda <>; 'Peter Leaver' <>; Valentine, Peter <>; Philip Venables <>; Tynan, Liz <>; Liz Downes <>; Joseph, Leo (NCMI, Crace) <>; ; Pat Comben <>; Andrew Isles Natural History Books <>; Andrea Gaynor <>; Russ Lamb <>; Diana Russell <>; Ruth Morgan <>; Penny Olsen <>; Tom Griffiths <>; ; Natasha Harris <>; Anna Jeffries <>; Henry, Rosita <>; 'Neil Hermes' <>; Hugh McGregor <>; Paul Turnbull <>; Paul Star <>; Martin Painter <>; Geoffrey Dabb <>; Richard White <>; Catherine Bishop <>; Danielle Jesser <>; David Carment <>; <>; Lindsay Trott <>; Jacqui Stockdale <>; ; Larry Crook <>; Margaret Cook <>; Cecile Espigole <>; Emily Gallagher <>; Stephen Garnett <>; ; Elizabeth Mackenzie <>; Bernadette Hince <>; ; Mark McKenna <>; GazandDeb Q <>
Subject: Paradise Parrot article
Hi
I've just had a piece on the extinction of the Paradise Parrot published in The Conversation. You can read it here: https://theconversation.com/100-years-ago-this-man-discovered-an-exquisite-parrot-thought-to-be-extinct-what-came-next-is-a-tragedy-we-must-not-repeat-171939 It's an apt day for it: it's the 100th anniversary of the species' rediscovery by Cyril Jerrard. (Actually, that's tomorrow, but today is as close as The Conversation could arrange.)
Share the article as much as you like, however you like. Add a comment too, if you want to.
Regards
Russell
Russell McGregor
Adjunct Professor of History
College of Arts, Society and Education
James Cook University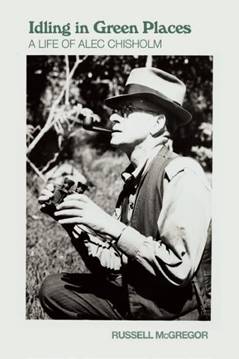 My latest book, Idling in Green Places: A life of Alec Chisholm, was shortlisted for the 2020 National Biography Award.
My latest Conversation piece is on the intertwined history of birdwatching and conservation.
My latest article, published in Arcadia, is on 'The Tragedy of the Paradise Parrot'.