| | | |
| --- | --- | --- |
| | canberrabirds | |
ID help
| | |
| --- | --- |
| To: | 'Robin Hide' <>, 'Canberrabirds' <> |
| Subject: | ID help |
| From: | Philip Veerman <> |
| Date: | Tue, 9 Nov 2021 07:24:30 +0000 |
How to hind what matters most!
I think it is a Black-faced Cuckoo-shrike.
Philip
From: Canberrabirds [ On Behalf Of Robin Hide via Canberrabirds
Sent: Tuesday, 9 November, 2021 6:04 PM
To:
Subject: [Canberrabirds] ID help
I was just getting back into the car at the overflow carpark (Campbell Park), when I caught sight of a bird shape at the top of a nearby small dead tree, and got off a quick snap before it disappeared (I didn't see it in flight) . Unfortunately its head was turned away. My impression was a bird of about Wattlebird size..
Grateful for any suggestions.
Robin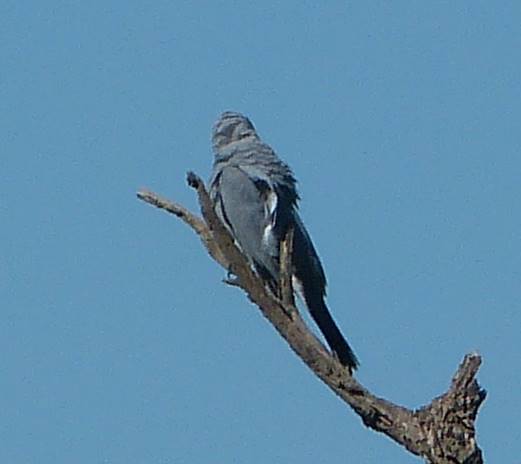 ATT00001.txt
Description: ATT00001.txt
Admin
The University of NSW School of Computer and Engineering takes no responsibility for the contents of this archive. It is purely a compilation of material sent by many people to the Canberra Ornithologists Group mailing list. It has not been checked for accuracy nor its content verified in any way. If you wish to get material removed from the archive or have other queries about the list contact David McDonald, list manager, phone (02) 6231 8904 or email . If you can not contact David McDonald e-mail Andrew Taylor at this address: andrewt@cse.unsw.EDU.AU