| | | |
| --- | --- | --- |
| | canberrabirds | |
FW: Deja vu all over again
| | |
| --- | --- |
| To: | Canberrabirds <> |
| Subject: | FW: Deja vu all over again |
| From: | Geoffrey Dabb <> |
| Date: | Fri, 8 Oct 2021 23:22:49 +0000 |
Yes, 2017, obviously. I am pretty old, but not that old.
From: Geoffrey Dabb <>
Sent: Saturday, 9 October 2021 10:19 AM
To: Canberrabirds <>
Subject: Deja vu all over again
The recent media publicity for the Bird of the Year vote has contrasted with the relatively small amount of interest on this chatline, surprising given the serious challenge mounted by our own Gang-gang. In 2017 these pages carried quite a few comments, leading me to revive a little graphic (below) from 2013 - the year which saw the SFW in central place on the podium. As has been pointed out, FWs and parrot species tend to split the vote, a result avoided by allowing only one representative species on the ballot. That strategy has an uncanny resemblance to Alexei Novalny's 'Smart Voting' strategy in the recent Russian elections. Perhaps one campaign has learnt from the other.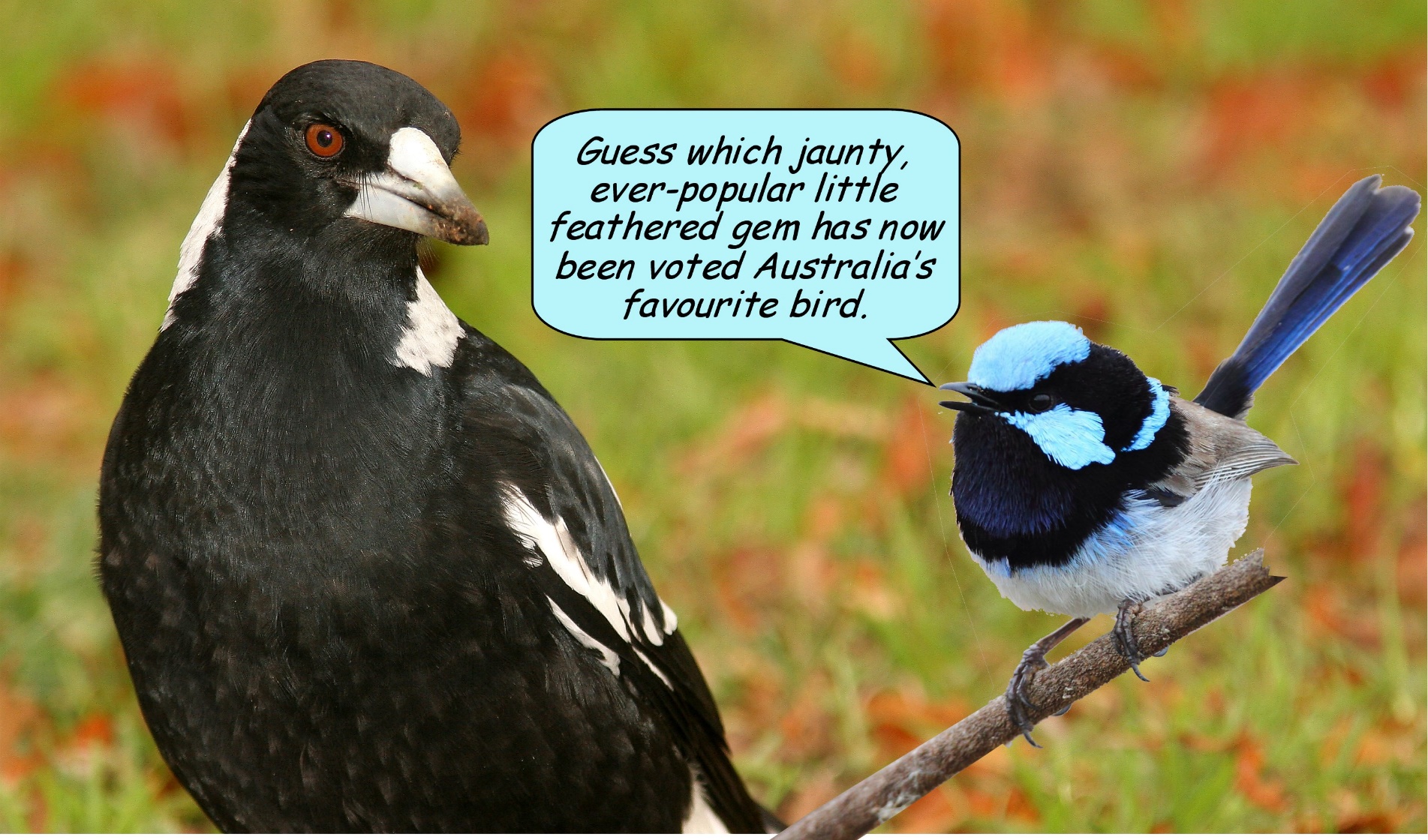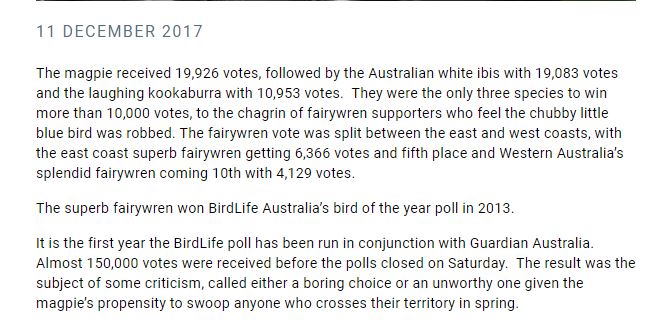 ATT00001.txt
Description: ATT00001.txt
Admin
The University of NSW School of Computer and Engineering takes no responsibility for the contents of this archive. It is purely a compilation of material sent by many people to the Canberra Ornithologists Group mailing list. It has not been checked for accuracy nor its content verified in any way. If you wish to get material removed from the archive or have other queries about the list contact David McDonald, list manager, phone (02) 6231 8904 or email . If you can not contact David McDonald e-mail Andrew Taylor at this address: andrewt@cse.unsw.EDU.AU