| | | |
| --- | --- | --- |
| | canberrabirds | |
FW: Cry of the Greenie
| | |
| --- | --- |
| To: | Canberrabirds <> |
| Subject: | FW: Cry of the Greenie |
| From: | Geoffrey Dabb <> |
| Date: | Tue, 28 Sep 2021 00:31:35 +0000 |
I had not intended to include the second, fuller report, that appears below the Dudley Le Souef odd ob. That indicates, from the high-lighted words, that I was investigating early reports relating to the stone-curlew, a species much discussed (generally under the label 'curlew') in the print media of colonial Australia.
From: Canberrabirds <> On Behalf Of Geoffrey Dabb
Sent: Tuesday, 28 September 2021 9:51 AM
To: Canberrabirds <>
Subject: [Canberrabirds] Cry of the Greenie
While looking through Trove for something else I came across a report of a meeting in Melbourne of the RAOU on 2 July 1919. This included the below odd ob offered by Dudley Le Souef. The reference to a 'greenie' suggests that the honeyeater was a White-plumed. They have that distinctive alarm call. Perhaps the meerkats at our local zoo will react in a similar way to the cries of Noisy Miners. At least look around, one would expect.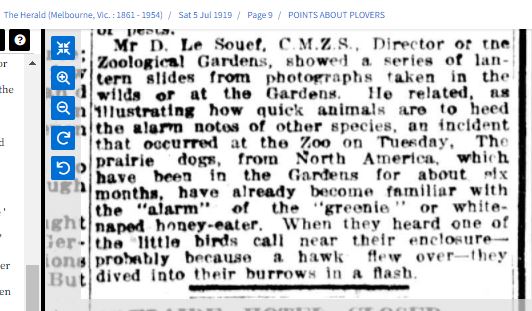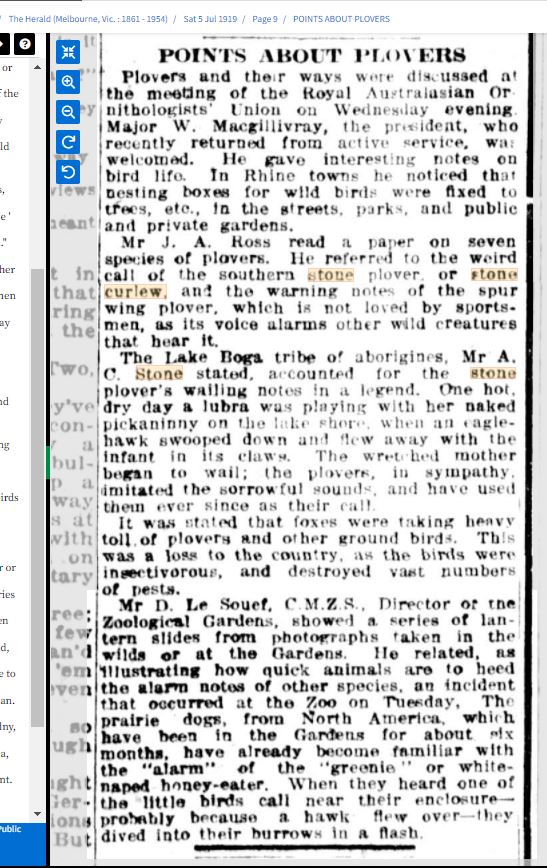 Untitled attachment 00133.txt
Description: Untitled attachment 00133.txt

ATT00001.txt
Description: ATT00001.txt
Admin
The University of NSW School of Computer and Engineering takes no responsibility for the contents of this archive. It is purely a compilation of material sent by many people to the Canberra Ornithologists Group mailing list. It has not been checked for accuracy nor its content verified in any way. If you wish to get material removed from the archive or have other queries about the list contact David McDonald, list manager, phone (02) 6231 8904 or email . If you can not contact David McDonald e-mail Andrew Taylor at this address: andrewt@cse.unsw.EDU.AU