Yes but the name Button-quail is much older than 1978. That 1978 book refers to "Button-quail. Used widely in international literature as the group name for the species of Turnix". (This sentence preceding your quote.) My story following, verifies that the word "seems" (as in your quote) is and always was an understatement.
One of my favourite bird stories and I might have posted this before. It relates to the first time I visited Canberra, in I think 1971. I was then as involved with aviary birds as wild birds and I set about wandering the streets looking for aviaries and introducing myself. There seemed to be a lot at that time (somewhere in inner north suburbs). I met several such people and that led to other invitations and attending a bird show somewhere. One chap had recently bought a pair of "Painted Quail". From someone else who had tried to get them breeding, but with no success. Anyway he was rebuilding and vegetating a big aviary for them and whilst doing that had both birds in a holding cage in his garage. They showed no interaction that I could detect. In between looking at all his other birds, I thought they looked too different. I went back to check them again. Fortunately I had Slater's field guide (non passerines) with me. I could then see one bird had a hind toe and the other didn't. From that book I could show this chap that his birds are totally different (more different than trying to mate a mare with a cow or a bull with a stallion). One was a Painted Button-quail and the other a Stubble Quail. I don't know what sex. Actually the sex of the birds was irrelevant as they have different mating systems anyway. He was surprised, relieved, maybe a little annoyed that a 14 Y.o. drop in visitor from Melbourne had pointed out his folly and that of the person he bought these two birds from. He was going to pass on the news to the person he bought them from.
I doubt this fellow would be alive now.
I think this same fellow was nervous about having his birds found by one of the inspectors as he also had recently acquired an illegally imported pair of Saffron Finches that were housed in yet another room (or that is what he told me).
Philip
From: Canberrabirds [ On Behalf Of Geoffrey Dabb
Sent: Tuesday, 21 September, 2021 2:22 PM
To: Canberrabirds
Subject: [Canberrabirds] Quail and Buttonquail
Thank you Philip. I thought you might have the old issues. You and I remember when they were all 'quail'. 'Button-quail' came in with the new 1978 names for the reason that 'it seems practical and informative to distinguish between phasianid and turnicid quail'. Each time you look at one of those revised trees the two groups seem to be getting further apart. That arrangement is obscured by the practice followed in the Australian Bird Guide of putting unrelated groups together to make it easier to find them - because people expect them to be together, I suppose.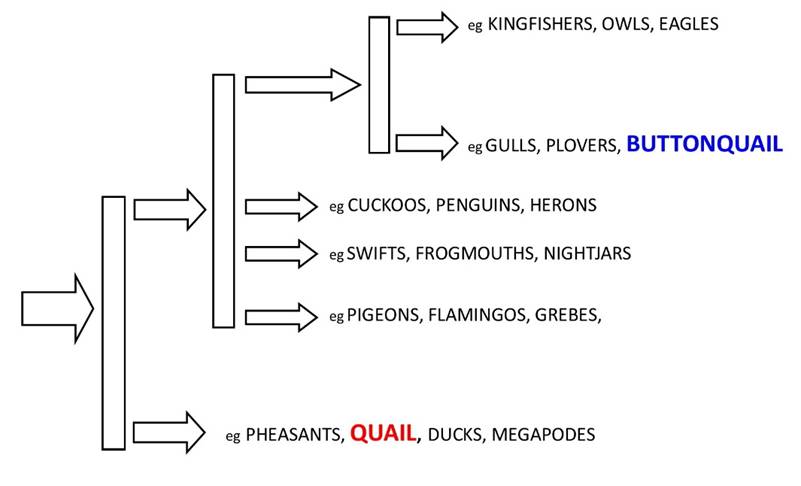 From: Philip Veerman <>
Sent: Tuesday, 21 September 2021 12:36 PM
To: 'Geoffrey Dabb' <>; 'Canberrabirds' <>
Subject: RE: [Canberrabirds] FW: FW: Birds into windows
Interesting thoughts. I simply associated the word 'platelets' as a new invention that suggests little plates. That seemed fair enough to me, based on shape, and plate being something to eat from. But of course a platelet is as Macquarie 4th ed says. But many words (like "mole") have many meanings. As for "Canberra Bird Notes 2 (10): 16-17) cannot be retrieved from the archive on the COG website." If you or anyone else wishes to see it, I have it here and can scan it for you. It will also be in COG's official bound CBN set (wherever that is now). That note did not use the word platelets. The preceding article surprised me a little "The Red-backed Quail in the Braidwood area". I didn't know they were near here. Neither article used the name "Button-quail".
Philip
From: Canberrabirds On Behalf Of Geoffrey Dabb
Sent: Tuesday, 21 September, 2021 11:12 AM
To: Canberrabirds
Subject: [Canberrabirds] FW: FW: Birds into windows
I do hope this will not sound pedantic, but I am raising this as a choice to be made about how we refer to something. From the viewpoint of general usage, 'platelets' is not really appropriate. My Macquarie 4th ed. says a 'platelet' is 'a microscopic disc occurring in profusion in the blood, and acting as an important aid in coagulation'.
Birdlife Australia's Birds in Backyards avoids the _expression_ when discussing the habits of the PBQ:
What does it do?
Feeding:
Painted Button Quail are active during the evening, night and early morning, feeding on the ground. They are usually seen in pairs or small family parties, searching for seeds, fruit, leaves and insects. They create distinctive "soup-plate" depressions when foraging, by spinning alternately on either leg and using the other to scrape away the leaf litter, leaving circular depressions in which they look for food.
In relation to PBQ feeding, HANZAB says: 'Scratch and glean, spinning on alternate legs in litter to create distinctive circular depressions where they feed. Up to 15 depressions can be made in 1.5m².' interestingly that observation is from Canberra, Grahame Clark in 1974. Unfortunately the source (Canberra Bird Notes 2 (10): 16-17) cannot be retrieved from the archive on the COG website (not by me, anyway)
HANZAB has a longer discussion of feeding 'depressions' in relation to the Black-breasted Buttonquail, beginning with 'Create distinctive crater-like depressions (platelets) in litter …'
So I suppose 'platelets' might be here to stay, just as a convenient _expression_. We should remember, though, that it might need some explanation for people who do not know about this special use of the term.
From: Canberrabirds <> On Behalf Of Geoffrey Dabb
Sent: Monday, 20 September 2021 9:21 AM
To: Canberrabirds <>
Subject: [Canberrabirds] FW: Birds into windows
Thanks Richard and Jack. I've thought from time to time that this woodland species, with unusual breeding behaviour, does not get the attention it deserves. Some years ago a friend sent me a pic of a dead one in her paved yard next to Farrer Ridge. I now think it more likely to have died from an in-flight collision with the substantial house rather than wandered in from the reserve. A look at the archive shows scattered mentions over the years – like the one Alastair S found 'drunkenly' walking by the road past FSP (Oct 2005).
Locally, I have come across them mainly on Mount Ainslie, possibly a stronghold, but they can turn up in most local woodland patches of any size, I'd think. Factors mentioned as relevant to occurrence include hazard-reduction burning and good rains.
Then there are the distinctive 'platelets', an obscure term for the saucer-shaped depressions, typically in soft dry bare earth, they make when feeding. In the past, Con has mentioned these on Black Mountain. I've also seen them on a hillside at Bluett's, quite a lot of them. Noel Luff found those when he was laying out an orienteering course.
The suggested local movements are something else to think about. I sometimes wish the short labels used for the ACT bird list were more colourful. 'Uncommon, breeding resident' might be accurate but could there be room, as well, for something like 'crepuscular wanderer'?
Many thanks Richard, yes, I had seen those, but in the probably mistaken belief that they don't fly far had opted for the closer less recent records. In my experience PBQ are reluctant to flush, much less so than for example the Brown Quail I have been seeing over recent months, though I have experienced them jumping vertically for 3-4 m when disturbed after dark.
In fact it's been hard to find any readily accessible information on whether they can fly for any distance, with the HANZAB entry (now nearly 30 years old) noting that "when flushed, fly fast, weaving through the trees ….. usually a metre of two above the ground; usually fly some distance before dropping and running." However, it also notes that patterns of dispersal may be linked to seasonal factors such as rainfall ...., and that the Aust. Atlas (RAOU one) claims that individuals may fly long distances.
While the Birdlife Australia Atlas does not clearly show seasonal movement, this may be because it is related to conditions rather than season. So it appears that like other species such as crakes which can suddenly appear if conditions are right, they may fly considerable distances to take advantage of conditions.
Jack Holland
September records from ebird show a couple at each of 3 sites that line up with your place Geoff. Campbell park (Steve H), Isaacs ridge (David D) and Wanniassa hills (myself).
Richard
On 19 Sep 2021, at 5:26 pm, jandaholland--- via Canberrabirds <> wrote:


Geoffrey, very interesting, it must have been a big surprise. Checking the eBird Australia records from 2010 reveals single records of single birds at Callum Brae in June 2020 and June 2021, and 2 birds on Red Hill in September 2019, possibly from where yours was heading S.

Around noon yesterday a not so loud bang on our deck window alerted me to a bird which tried to flutter away but then came to rest under the deck table. I thought it was a female blackbird but on closer inspection the barred tail first alerted me it was an adult Fan-tailed Cuckoo. It's the first I've had in my Chapman GBS site since the 2003 fires, though there have been a few local records, particularly over the past couple of years, at both Narrabundah Hill and Cooleman Ridge.

A slightly happier ending though. After recovering for about 15 minutes, on my approach it flew to a casuarina about 10 m away, where it recovered for another 15 minutes before it was last seen about 10 minutes later foraging quite actively there.

Jack Holland

From: Canberrabirds <> On Behalf Of Geoffrey Dabb
Sent: Sunday, 19 September 2021 3:58 PM
To: Canberrabirds <>
Subject: Re: [Canberrabirds] Lock down protocaol for Birders

It was not necessary to leave my LOCAL REGION to investigate the loud THUMP on the window at sunrise this morning. I found an ex- Painted Buttonquail that must have been commuting south at some speed at about 5m above ground level. Now in the freezer.

--
This is the email announcement and discussion list of the Canberra Ornithologists Group.
Emails posted to the list that exceed 2 MB (2,000 kB) in size, including attachments, will be rejected.
All emails distributed via the list are archived at http://bioacoustics.cse.unsw.edu.au/archives/html/canberrabirds. It is a condition of list membership that you agree to your contributions being archived.

Canberrabirds mailing list

https://lists.canberrabirds.org.au/mailman/listinfo/canberrabirds