| | | |
| --- | --- | --- |
| | canberrabirds | |
White-backed Magpie, a very Black-backed one - and Satin Bowerbirds
| | |
| --- | --- |
| To: | Canberrabirds list <> |
| Subject: | White-backed Magpie, a very Black-backed one - and Satin Bowerbirds |
| From: | Barbara Preston via Canberrabirds <> |
| Date: | Thu, 13 May 2021 09:05:18 +0000 |
There is a female White-backed Magpie that hangs around in the hope of the odd grub or worm as we work in our garden and the one next door. She comes with two to four Black-backed companions. They are usually companionable, but there are squabbles over titbits. See top two photos.
I was looking through photos from last year, and noted one of her companions with a very narrow white collar – the bottom photo is the only one I have of it.
How common are White-backed Magpies in Canberra?
Is the one with the very small collar unusual ? (Or just an odd photo of an ordinary B-BM?)
We have had a pair of Satin Bowerbirds around here in O'Connor – female seen among the canes of a primrose jasmine yesterday and today (and seem on a gate in our garden briefly last week), and male started a bower with bright blue and silver objects in kangaroo paws a couple of months ago, but so signs since. Good reason for me not to "clean up " all the dense, neglected growth in our garden!
Barbara Preston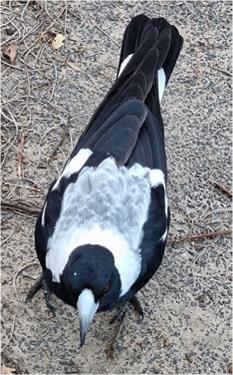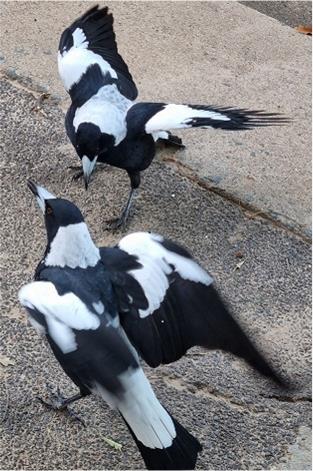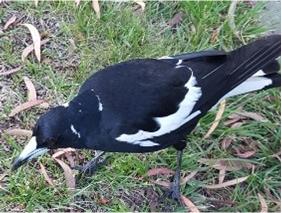 ATT00001.txt
Description: ATT00001.txt
<Prev in Thread]
Current Thread
[Next in Thread>

White-backed Magpie, a very Black-backed one - and Satin Bowerbirds, Barbara Preston via Canberrabirds <=
Admin
The University of NSW School of Computer and Engineering takes no responsibility for the contents of this archive. It is purely a compilation of material sent by many people to the Canberra Ornithologists Group mailing list. It has not been checked for accuracy nor its content verified in any way. If you wish to get material removed from the archive or have other queries about the list contact David McDonald, list manager, phone (02) 6231 8904 or email . If you can not contact David McDonald e-mail Andrew Taylor at this address: andrewt@cse.unsw.EDU.AU