If my story of 25 years ago happened now, I could have used the communication device thingy in my pocket to take some photos of the process and saved myself all that typing. Though I suppose the only thing to add is that these construction workers must have been impressed by the steadfastness of these birds to tolerate all the disturbance and felt motivated by that to reward them.
From: Robin Hide [
Sent: Friday, 11 September, 2020 2:42 PM
To: Lindell Emerton; John Leonard
Cc: Canberra Birds;
Subject: Re: [Canberrabirds] Magpie Lark nesting in deciduous tree
Snap!
I've just noticed this one in the lamp post outside the National Library - to the right of the fountain -facing out from the Library steps.
Robin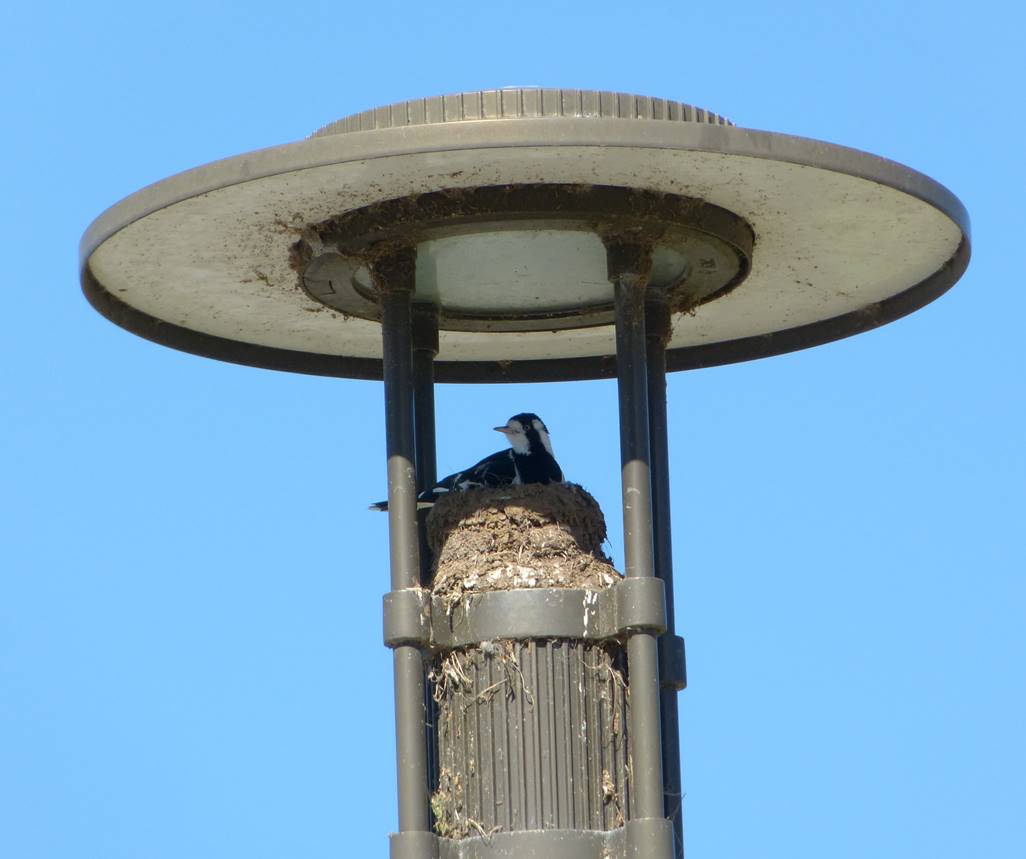 From: Lindell Emerton [
Sent: Friday, 11 September 2020 8:36 AM
To: Philip Veerman
Cc: Canberra Birds;
Subject: Re: [Canberrabirds] Magpie Lark nesting in deciduous tree
And some nest sites can be quite different. This one was in Elder Park, Adelaide, in September 2014, near the busy bridge across the Torrens River from the Convention Centre to the Adelaide Oval.
These had used the open lamp post and I can't understand why they continued with the nest building after the first night with the lights on.
I don't know the outcome from this nesting attempt as I was only in town for a few days…..interesting.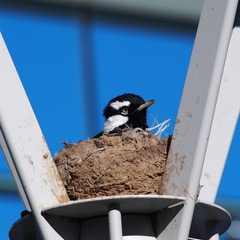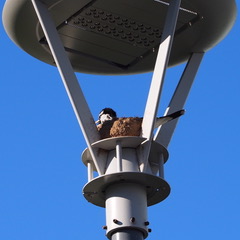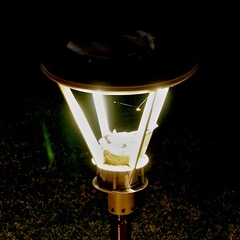 On 10 Sep 2020, at 9:28 pm, Philip Veerman <> wrote:
Sure they usually nest in Eucalypts but they don't choose particularly well shaded or hidden sites within those trees either. Another case of note, also in Canberra, about 25 years ago, when some of the buildings in Woden town centre were being rebuilt, along the walkway between the main plaza and many buildings, a pair of Magpie-larks built their nest on bare steel scaffolding, that was being used daily by construction workers carrying building materials and also passed by, by hundreds of people within a few metres 5 days a week, especially during lunch times (one of whom being me). The nest was about 3 metres above ground (the ground of course being concrete). The site was also a bit of a wind tunnel and potentially very cold, although also shaded by the building, from the potentially severe summer sun. When the necessary work was finished, the contractors pulled down all the scaffolding above and beside the nest, in both directions, leaving just enough to be stable and not harm the nest, until a week or two later when the chicks fledged, when they came back to collect the rest. The whole of the nest building and incubation period and early part of the NY period, there was construction work going on. The workers told me that this little act of kindness cost them a lot of money in costs of extending their equipment time there. The workers collectively paid for this rather than the construction company. I also expect that even the thousands of office staff, only some of who would have noticed the birds (even though in those days people were not buried in nonexistent mobile phones), seen it from the beginning but if they didn't at the start, it was perfectly clear as to why some scaffolding had been left that extra week or so just to have not disturbed the birds.
Here in suburban Canberra we have Magpie Larks nesting in a deciduous tree in our backyard.
The nest is nearing completion, but at the moment the tree has not yet put out leaves (probably will have done so in a couple of weeks).
In previous years they (or other ML pairs) have nested in tall Eucalypts nearby, this is the first year they have nested here.
My question is, why built in a tree that is as yet a bare tree. Surely they can't know it's going to leaf in a few weeks and so the shade and protection might be better than a native tree; at the moment there is no shade and no protection. Magpies often nest in deciduous trees, but Magpies are more formidable than MLs and can fight off more predators. Has anyone ever seen MLs nesting a dead native tree?

--
This is the email announcement and discussion list of the Canberra Ornithologists Group.
Emails posted to the list that exceed 2 MB (2,000 kB) in size, including attachments, will be rejected.
All emails distributed via the list are archived at http://bioacoustics.cse.unsw.edu.au/archives/html/canberrabirds. It is a condition of list membership that you agree to your contributions being archived.

CanberraBirds mailing list
m("canberrabirds.org.au","CanberraBirds");">
http://canberrabirds.org.au/mailman/listinfo/canberrabirds_canberrabirds.org.au

ATT00001.txt
Description: ATT00001.txt