It's easy to attribute self-protection as a reason they harass lizards, then again they will play with most things. I found these two playing with a discarded can in a Brisbane park. (the can was no threat)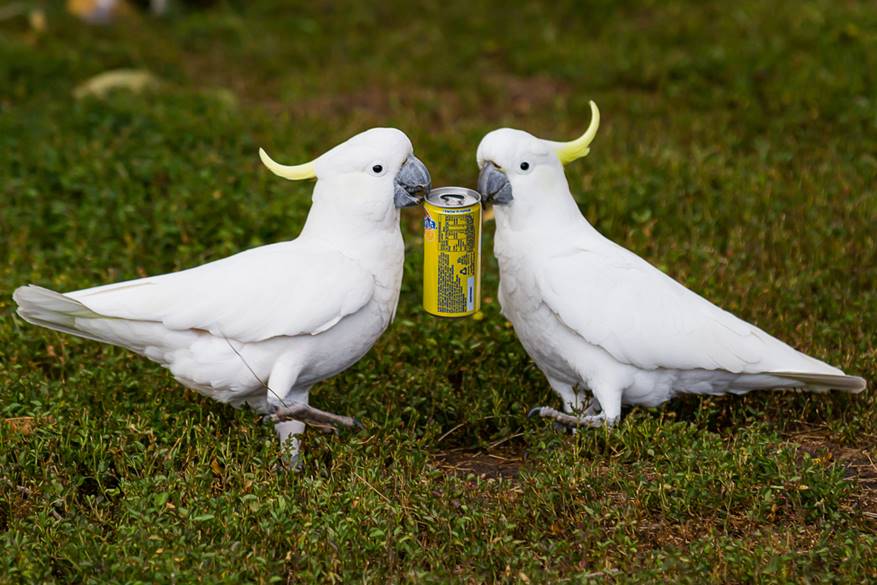 From: Danny McCreadie <>
Sent: Monday, October 21, 2019 7:06 AM
To: 'David Rees' <>; 'Philip Veerman' <>;
Subject: RE: [canberrabirds] Cockatoos trying to pick up monitor by tail
Last week I moved a large Blue Tongue which was being harassed by 6 Noisy Miners and 4 Magpies in Corroboree Park. As I picked it up I was swooped and yelled at by a single Sulphur Crested Cockatoo. They really don't like lizards.
Danny
From: David Rees <>
Sent: Sunday, October 20, 2019 10:53 PM
To: Philip Veerman <>;
Subject: Re: [canberrabirds] Cockatoos trying to pick up monitor by tail
Maybe , but my one was just like Kym's, on the ground. They were curious and were 'playing' with it.
On 20/10/2019 10:40 pm, Philip Veerman wrote:
It is known in the situation of them trying to stop a goanna climbing up to a nest. For a bearded dragon, presumably it is mistaken identity (?)

From: David Rees
Sent: Sunday, 20 October, 2019 10:24 PM
To: kym bradley;
Subject: Re: [canberrabirds] Cockatoos trying to pick up monitor by tail

Kym

I've seen cockies do something similar with Bearded dragons, crests up and all... They are great images, because they capture something special, not simply just another perfect bird on a twig with bokeh done in the 'politically correct' way.

David

On 20/10/2019 7:37 pm, kym bradley wrote:

Three cockatoos tried to pick up the monitor by the tail numerous times the monitor would rare back each time they grabbed it

NOT quality images I was too far away

Funny they did not do it with the red belly x 2