| | | |
| --- | --- | --- |
| | canberrabirds | |
Fwd: [canberrabirds] Grey Butcherbird
| | |
| --- | --- |
| To: | COG List <> |
| Subject: | Fwd: [canberrabirds] Grey Butcherbird |
| From: | Martin Butterfield <> |
| Date: | Fri, 30 Aug 2019 05:45:05 +0000 |
See below: I meant to reply to all but by accident only sent to Geoffrey originally.
---------- Forwarded message ---------
From:
Martin Butterfield
<>
Date: Fri, 30 Aug 2019 at 10:33
Subject: Grey Butcherbird
To: Geoffrey Dabb <>
I have looked at the first 30 years of the GBS data on Grey Butcherbirds and charted the total number of birds reported. (I suspect that using A values would give a similar pattern so haven't done the extra calculations.
)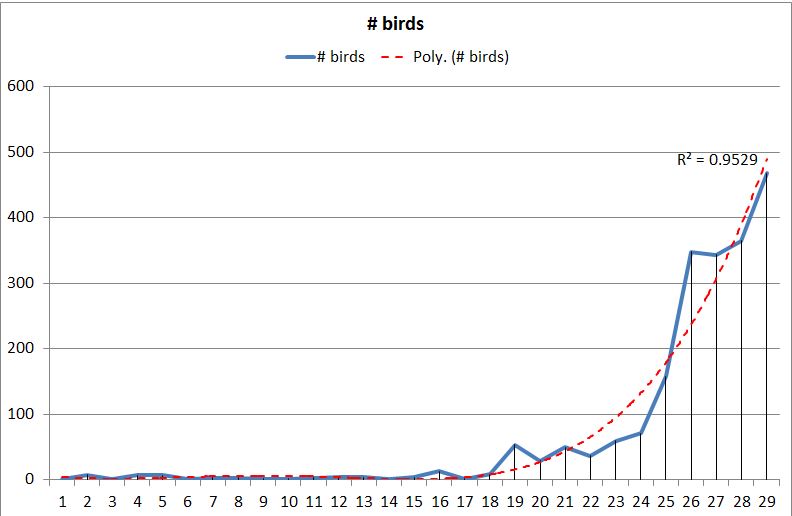 The major growth appears in
y
ear 24, after the 2003 fires leading to a view that they may have driven the Butcherbirds out of the Brindabellas. To sort-of test that I then charted up to year 24 and projected the trend forward 6 years. That gives a projected number of Grey Butcherbirds in year 30 of about 120, rather than the 468 actually reported. I think this discrepancy is more than could be explained by simple demographics so it tends to support the idea of an infusion of birds from the fireground. Having got to the urban area they found it to their liking, as well meaning retirees flick mince for them!
On Fri, 30 Aug 2019 at 08:43, Geoffrey Dabb <> wrote:

For those who came in more recently, the background is that this is a bird with a history. (Although you might reasonably think all birds have a history.) The 1992 COG atlas said 'Despite intensive observation, there are only a handful of urban records. Their absence from the city is surprising in view of their ubiquity in larger cities such as Sydney and Melbourne; their low numbers in Canberra have been linked to the city's poor lizard fauna …'

Anecdotal reporters of the species usually have that background in mind. There is no doubt GBb numbers are increasing in the suburbs, for whatever reason. One is tempted to point to feeding by suburbanites, although the appearance of the species near housing seems to be preceded by a build-up in numbers in adjacent woodland, according to my observations.

A pair is showing signs of nesting in the small neighbourhood park of Rocky Knob. They are of a confiding nature, coming to the backdoor for a scrap of flung meat. Below snap taken just now of the pair in the Feijoa tree from 2m away. The upper out of focus bird has the dusky plumage of a younger bird. Their catching ability while on the wing is remarkable. A piece of flung mince from 2m is taken at the mid-point (ie 1m from the flinger)and the bird is able to reverse direction with a couple of wingbeats before flying quickly away..
Attachment: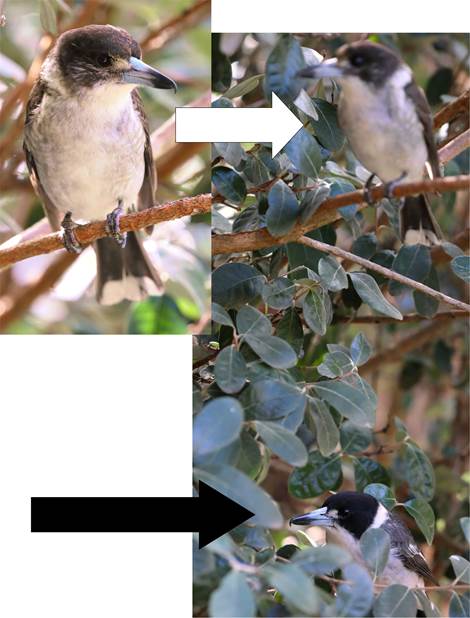 Description: image001.jpg

ATT00001.txt
Description: ATT00001.txt
Admin
The University of NSW School of Computer and Engineering takes no responsibility for the contents of this archive. It is purely a compilation of material sent by many people to the Canberra Ornithologists Group mailing list. It has not been checked for accuracy nor its content verified in any way. If you wish to get material removed from the archive or have other queries about the list contact David McDonald, list manager, phone (02) 6231 8904 or email . If you can not contact David McDonald e-mail Andrew Taylor at this address: andrewt@cse.unsw.EDU.AU