| | | |
| --- | --- | --- |
| | canberrabirds | |
FW: [canberrabirds] Signs of spring
| | |
| --- | --- |
| To: | "" <> |
| Subject: | FW: [canberrabirds] Signs of spring |
| From: | Geoffrey Dabb <> |
| Date: | Sun, 18 Aug 2019 05:52:16 +0000 |
And I photographed the proverbial 'one swallow' this afternoon. The location is secret.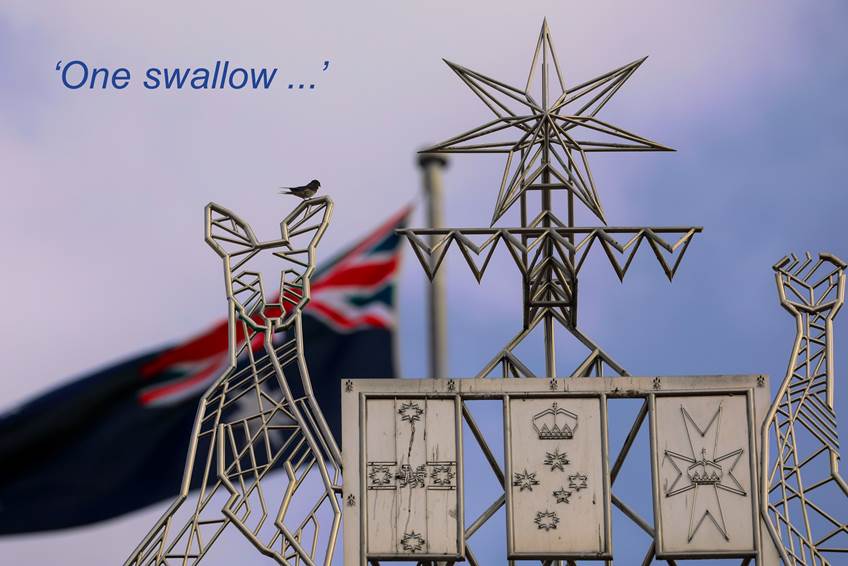 From: Nicki Taws <>
Sent: Sunday, 18 August 2019 2:29 PM
To: 'chatline' <>
Subject: [canberrabirds] Signs of spring
Yesterday a lone White-naped Honeyeater visited our garden in Cook, the first since autumn.
Today 5 Dusky Woodswallows were hawking overhead into the north-westerly breeze.
Cheers
Nicki Taws
0408 210736
<Prev in Thread]
Current Thread
[Next in Thread>

FW: [canberrabirds] Signs of spring, Geoffrey Dabb <=
Admin
The University of NSW School of Computer and Engineering takes no responsibility for the contents of this archive. It is purely a compilation of material sent by many people to the Canberra Ornithologists Group mailing list. It has not been checked for accuracy nor its content verified in any way. If you wish to get material removed from the archive or have other queries about the list contact David McDonald, list manager, phone (02) 6231 8904 or email . If you can not contact David McDonald e-mail Andrew Taylor at this address: andrewt@cse.unsw.EDU.AU