Our eyes never close, Lori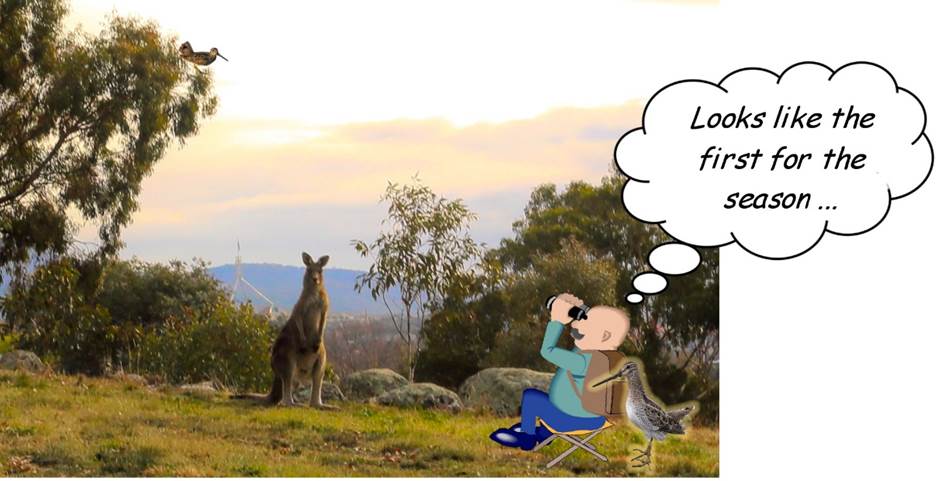 -----Original Message-----
From: Lori Gould <>
Sent: Wednesday, 14 August 2019 3:50 PM
To: Anthony Willis <>;
Subject: RE: Latham's Snipe at West Belconnen Pond
Hi Tony,
That makes sense. Here is a note I got from Dave (Victorian Wader Study Group):
Hi all,
Thought you'd all be interested that the first snipe of the season for Australia was reported on Friday from near Ipswich, Qld (https://ebird.org/australia/view/checklist/S58680367).
This is about 10 days earlier than the long-term average...
Regards, Dave
Time to start keeping our eyes open!
Cheers Lori
Lori Gould
Program Manager
Woodlands and Wetlands Trust (Jerrabomberra Wetlands)
M: 0439 030 058
PO Box 58 Fyshwick ACT 2609
www.woodlandsandwetlands.org.au
-----Original Message-----
From: Anthony Willis <m("anu.edu.au","Anthony.Willis");">>
Sent: Wednesday, 14 August 2019 3:36 PM
To: m("canberrabirds.org.au","canberrabirds");">
Subject: [canberrabirds] Latham's Snipe at West Belconnen Pond
A friend of mine who walks his dog at West Belconnen Pond tells me he observed his first Latham's Snipe for this season at West Belconnen Pond on Monday (12th August). He didn't have sightings on Tuesday or Wednesday - but those days were foggy so maybe the Snipe was just laying low, like most Canberrans.
Tony Willis