I had another look this morning. The plan seems to be to divert waterways into constructed high-quality marshland to reduce pollutants flowing into the river system, of which LBG, for better or worse, now forms part. A billabong arm of Jerra Creek (violet line) has been reconstructed to form the marshland area. That arm previously only had flow in flood, the main Jerra Creek channel having been deepened and strengthened as the alternative course (turquoise line). At the moment after recent rain there is a trickle from Jerra Creek into the marsh arm, but at the moment no outflow. There is provision for the inflow to be varied via an adjustable barrier. That will control the level of water in the marsh arm. This seems similar to the plan at JWNR, and is no doubt followed, more or less, at the other project sites. How long before we see a new marshland in Telopea Park?
For some time I was under the impression that the small 'Mill Creek Reserve' (red star) was named for the brooklet that comes down through Narrabundah golf course and past the old velodrome. However I have since found that 'Mill Creek' was another name for 'Jerra Creek'; the little reserve (really only a table) was by the 'original' course of the main creek. 'Mill Creek Oval' is still there (yellow star).
The location of the actual mill is another story.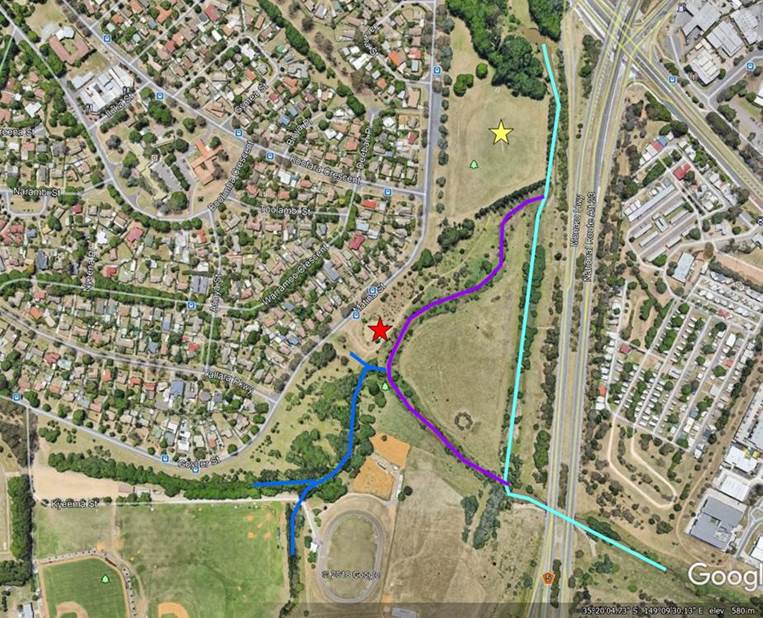 -----Original Message-----
From: Nick Payne <>
Sent: Sunday, 11 August 2019 7:20 PM
To: Canberra Birds <>
Subject: Netting on new wetlands and birds
This morning we were walking around the new wetland that has been created off Goyder St, Narrabundah. There was an Ibis wading around under the netting, and we observed it trying to fly off and hitting the netting overhead. It had presumably landed in one of the ponds, which are not netted overhead, and because there is no vertical netting preventing it, it was able to walk to the section where it could no longer take off. Surely the surround of the ponds should be netted so that birds can't get trapped in this manner.
Nick Payne
*******************************************************************************************************
This is the email announcement and discussion list of the Canberra Ornithologists Group.
Emails posted to the list that exceed 200 kB in size, including attachments, will be rejected.
All emails distributed via the list are archived at http://bioacoustics.cse.unsw.edu.au/archives/html/canberrabirds. It is a condition of list membership that you agree to your contributions being archived.
When subscribing or unsubscribing, please insert the word 'Subscribe' or 'Unsubscribe', as applicable, in the email's subject line.
List-Post: <m("canberrabirds.org.au","canberrabirds");" target="_blank">>
List-Help: <m("canberrabirds.org.au","canberrabirds-help");" target="_blank">>
List-Unsubscribe: <m("canberrabirds.org.au","canberrabirds-unsubscribe");" target="_blank">>
List-Subscribe: <m("canberrabirds.org.au","canberrabirds-subscribe");" target="_blank">>
List manager: David McDonald, email <m("canberrabirds.org.au","coglists-owner");" target="_blank">>