| | | |
| --- | --- | --- |
| | canberrabirds | |
Wotsit and other matters
| | |
| --- | --- |
| To: | "" <> |
| Subject: | Wotsit and other matters |
| From: | Geoffrey Dabb <> |
| Date: | Sat, 10 Aug 2019 00:03:27 +0000 |
If using your Dick Tracy wrist screen, you might have needed to enlarge these somewhat. However Philip V got nearly all.

A good example of the underexposed wotsit. Lightening brings out an unmistakeable grey Teal, stooging around in front of the fence remains in front of Cygnus Hide.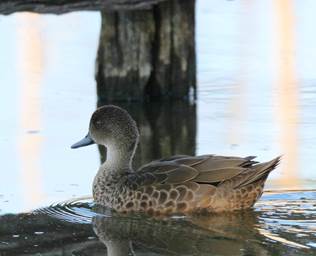 A 'bird-part' wotsit, here showing the conspicuous scapulars of a darter.
A snap from below of a begging koel chick, the attendant wattlebird omitted.
Another 'bird-part', here the colourful ventral area of a Rainbow Lorikeet.
Yes, one from the endless variety of S Bowerbird display poses, here a young learning male, still with blackish bill.
Female Red-rump. A closeup would show phalaris seeds adhering to the bill.
Rather unmistakeable face of the Diamond Firetail.
Half a hobby.
The face of a Yellow-tailed Black-Cockatoo, the pink skin indicating a female.
This is an interesting class of wotsit, a clear view of a head but with no identifying marks shown. This is the kind of ambiguous snap often submitted by people wanting to know 'what have I photographed here?'. This time it's a female Hooded Robin.
Another well-known category of wotsit, perhaps the classic kind, the severely out-of-focus snap. This is a male Gang-gang plucking a sprig within an African Boxthorn bush. Does enlargement help?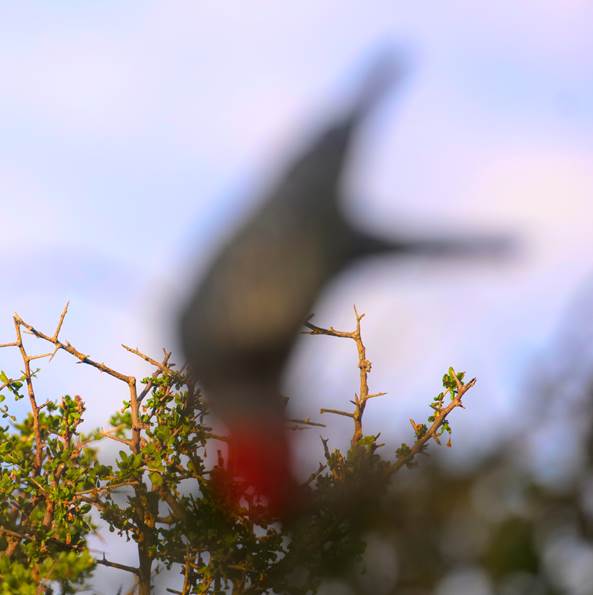 Swift Parrot, note characteristic tail.
Mainly Kangaroo Paw, E Spinebill lower right.
A sliver of Crested Pigeon.
A flock of Little Corellas. To avoid arguments the numeral has been placed to obscure a solitary Long-billed.
Royal Spoonbill
Enter a Little Bittern, from right.
Little Eagle.
Y-r Thornbill, both identifiable ends shown.
Weebill. Dick Tracy might have trouble seeing the cream iris.
While I have the floor, I might mention a couple of recent examples of our birds in the media. The ABC radio Off Track program at 0530 today had quite a bit about the Yellow-faced Honeyeater migration. To be repeated at 1pm Sunday, I believe. Secondly the 'Get it?' puzzle in Today's Sydney Morning Herald asks you to name a species very close to home.
From: Geoffrey Dabb <>
Sent: Friday, 9 August 2019 1:33 PM
To:
Subject: [canberrabirds] Another Wotsit
<Prev in Thread]
Current Thread
[Next in Thread>

Wotsit and other matters, Geoffrey Dabb <=
Admin
The University of NSW School of Computer and Engineering takes no responsibility for the contents of this archive. It is purely a compilation of material sent by many people to the Canberra Ornithologists Group mailing list. It has not been checked for accuracy nor its content verified in any way. If you wish to get material removed from the archive or have other queries about the list contact David McDonald, list manager, phone (02) 6231 8904 or email . If you can not contact David McDonald e-mail Andrew Taylor at this address: andrewt@cse.unsw.EDU.AU