| | | |
| --- | --- | --- |
| | canberrabirds | |
Distinguishing between male & female Kookaburras
| | |
| --- | --- |
| To: | "" <>, "" <> |
| Subject: | Distinguishing between male & female Kookaburras |
| From: | Philip Veerman <> |
| Date: | Sun, 21 Apr 2019 10:39:40 +0000 |
I can't see any usable difference between these two birds. Curious that your comment (and photos) implies that there should be a difference at the head end. Even if these two might be different, that doesn't mean it is a sex difference. HANZAB mentions female "Very similar to primary male, though never have obvious bright blue patch on rump" . That was the only thing that I had ever thought of as a clue. Though the blue is over the back (hidden by wings when perched) but does not extend so far down to the rump.
Philip
From: Robin Eckermann [
Sent: Sunday, 21 April, 2019 8:19 PM
To:
Subject: [canberrabirds] Distinguishing between male & female Kookaburras
This pair of Kookaburras regularly visit a holiday house near Batemans Bay. I would appreciate any advice as to distinguishing between the male and female. Click on the thumbnails for a larger view.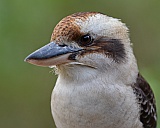 Although the head structure appears slightly different, Kookaburras have the ability to flatten their head feathers, so I don't think this is a differentiator. The bird on the left has slightly darker head colouring - and the dark stripe below the eye is slightly darker, longer and more rectangular than the stripe on its mate. Any tips on gender identification would be appreciated.
--
Regards ... Robin Eckermann
Phone: 02-6161-6161 (w) 0418-630-555 (m)
---
Admin
The University of NSW School of Computer and Engineering takes no responsibility for the contents of this archive. It is purely a compilation of material sent by many people to the Canberra Ornithologists Group mailing list. It has not been checked for accuracy nor its content verified in any way. If you wish to get material removed from the archive or have other queries about the list contact David McDonald, list manager, phone (02) 6231 8904 or email . If you can not contact David McDonald e-mail Andrew Taylor at this address: andrewt@cse.unsw.EDU.AU