| | | |
| --- | --- | --- |
| | canberrabirds | |
Bird ID - Rose Robin or Pink Robin
| | |
| --- | --- |
| To: | "" <> |
| Subject: | Bird ID - Rose Robin or Pink Robin |
| From: | Richard Lane <> |
| Date: | Sun, 21 Apr 2019 02:42:32 +0000 |
Hi there.

I was hoping that someone could help ID this bird - and tell me what features they are using to make their judgement. Is it a Rose Robin or Pink Robin? I am leaning towards a Rose Robin - but I have no real expertise or experience with these birds.
Various references mention a white spot above the beak of a Pink Robin - this bird has a thin white patch above the beak. Reference is also made to the breast color extending further down on a Pink Robin than on a Rose Robin - this example has the color at an intermediate length down the breast. Pink Robins are described as having a tail without any white. This example has white on the underside, suggesting a Rose Robin.
By the way, the photograph was taken at the Botanic Gardens here in Canberra last week.
Any help will be very gratefully received.
... Richard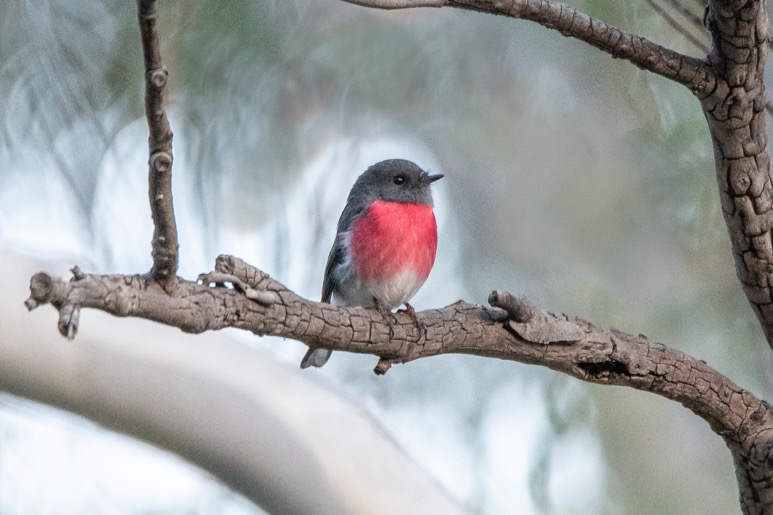 Admin
The University of NSW School of Computer and Engineering takes no responsibility for the contents of this archive. It is purely a compilation of material sent by many people to the Canberra Ornithologists Group mailing list. It has not been checked for accuracy nor its content verified in any way. If you wish to get material removed from the archive or have other queries about the list contact David McDonald, list manager, phone (02) 6231 8904 or email . If you can not contact David McDonald e-mail Andrew Taylor at this address: andrewt@cse.unsw.EDU.AU