Julian's map shows the correct boundary for the wetlands.
From: Julian Robinson [
Sent: Tuesday, 16 April 2019 12:21 PM
To: 'Geoffrey Dabb' <>;
Subject: RE: [canberrabirds] Maps of Canberra Nature Park and other reserves
Where to get latest digital map.
FREE
Note we are talking about the 25k Natmap series of maps put out by NSW government, because these are available for use with various consumer-level mapping and geolocation programs. Jenny's reserve boundaries would be the ultimate source of reserve boundary information, but I can't navigate with that in the field (and I haven't yet worked out how to use it at all really L, but grateful for the information ).
You can actually get the latest version of the 25K Natmaps free at https://maps.six.nsw.gov.au/etopo.html but at the moment only on-screen. Here's how to see the latest version:
Search on, for example, Canberra. In the box that comes up select anything that might lead you to the map you want eg Canberra again, or Canberra Nature Park. You will get a zoomed in map with a little flag at where it thinks your feature is located. Dismiss the box by clicking cross at top right. You will have a version of the map, it might be satellite or topo map or half-half or something. Look at the box at the top right hand corner of the map, under the buttons "Map Contents" and "Basemaps". Click on "Basemaps" if necessary.
You want to have "Topo Maps Current" visible in the lower of the two sub-boxes (the top seems to be permanently set on "NSW Imagery". If necessary, click on "looking for 1943 imagery" and select "Topo maps current".
Now you can vary the slider to the right of the sub-boxes. This varies the visibility of aerial photography vs topo map. Pull it down to the bottom.
You now have a map that can be zoomed and panned that is that latest Natmap version and shows the nature park boundaries. If you are looking at the 'selected' map, it will have a yellow cast across it, I don't know how to get rid of that except by selecting a map area you are not interested in (which will go yellowish) and them panning back to the area you are interested in. (zoom out to see the map boundaries).
So, all maps are there to look at on screen. You could of course screen capture to acquire parts that you are interested in.
The site also allows you to download any map via the "Select a map:" boxes at far right, but they currently turn out to be old versions and don't have the reserve boundaries.
PURCHASE
Or, you can buy a complete set of NSW maps from one or two businesses that make mapping software. I get mine from Memory Map - $99 for all of NSW. Their latest version is called "NSW Topo Ed 3 (2019)". This consists of three sub-maps, one covering all the 25k scale maps of eastern and southern NSW, one for the areas covered at 50k and one for 100k areas further west. Together they cover the whole state, and are about 16GB to download(!). But they work brilliantly on the Memory Map software. (Memory Map's model is you get the app free and buy the maps. In practice this means you download the app and spend the rest of your life trying to work out how to download maps and keep track of your licences. It's actually simple to do when you know how, but not well explained anywhere).
Third possibility is purchasing digital copies of individual maps from http://spatialservices.finance.nsw.gov.au/mapping_and_imagery/maps or mapshops.
CURRENCY
The "2019" date I mentioned is the date of Memory Maps' map set. This set will have been made up by joining the latest versions available at the time they compiled the mapset for sale i.e.2019. The date of the latest individual Canberra map within that set is 2017. I don't know how this compares with OpenStreetMap, but the latter has the potential to be more up to date. As Nick points out anyone can update OpenStreetMap if you have The Knowledge, and you would use Jenny's ACT open data site for the latest info. Below is what the 25k Natmap (2017) shows for Jerra Wetlands to compare with Geoffrey's maps: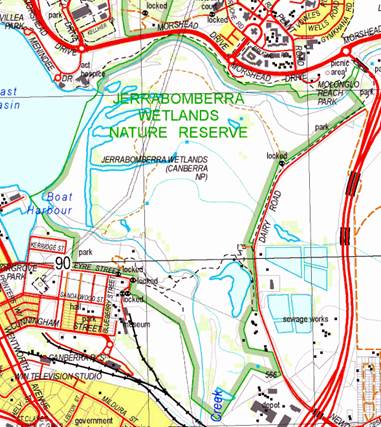 From: Jenny Smits
Sent: Tuesday, 16 April 2019 10:01 AM
To: Geoffrey Dabb
Cc:
Subject: Re: [canberrabirds] Maps of Canberra Nature Park and other reserves
You can also view in ACTMapi.
But yes I would also like to know how to obtain electronic copies of the 2019 topos!

On 16 Apr 2019, at 8:28 am, Geoffrey Dabb <> wrote:
I did a quick check of OpenStreetMap against JWNR master plan. Some significant differences. Showing only southern section of latter below.

<image001.jpg>

From: Nick Payne <>
Sent: Tuesday, 16 April 2019 7:00 AM
To:
Subject: Re: [canberrabirds] Maps of Canberra Nature Park and other reserves

On 15/04/2019 8:31 pm, Julian Robinson wrote:

For anyone interested in such stuff, the latest (2019) 25k series of topographic maps of NSW (including the ACT) at *last* shows the boundaries of Canberra Nature Reserve and other ACT reserves. Until now the only visualisation of the boundaries easily available to the public has been Google Maps, but this is not easy to read and is often misleading. The ACT Government has its own map/GIS system that should be accurate but not available easily and portably. The individual maps of each reserve at https://www.environment.act.gov.au/parks-conservation/parks-and-reserves/explore/canberra_nature_park are missing many reserves and are mostly out of date (Kama, Woodstock and Isaacs Ridge, for example).

I use the digital version and this 2019 version is much better than the previous set. I wrote to the mapping authority about the earlier version asking why there was no cadastral information at all, let alone reserve boundaries, and was told "we didn't get any information from the ACT Government so it hasn't been included" which seemed a strange way to run an official map series. The latest series is useful for birders who like to know where they can wander.

Julian