| | | |
| --- | --- | --- |
| | canberrabirds | |
Double Bars of Pialligo
| | |
| --- | --- |
| To: | 'Danny McCreadie' <>, 'Canberra birds' <> |
| Subject: | Double Bars of Pialligo |
| From: | Suzanne EDGAR <> |
| Date: | Sat, 23 Feb 2019 05:24:26 +0000 |
How v beautiful!
Sz
From: Danny McCreadie [
Sent: Saturday, 23 February 2019 4:20 PM
To: 'Canberra birds' <>
Subject: [canberrabirds] Double Bars of Pialligo
I have seen Double Barred Finches at the Pialligo Nurseries the last few weeks but today was the best so far. I first saw a single bird in the trees at the back of Rodney's Plants Plus then heard feeding noises from the bushes below. I got closer and a dark feathered Double Bar emerged which I believe is a young bird. The adult above started calling and other Double Barred Finches arrived. All having a look at me standing nearby. A white Browed Scrub Wren and some Silver Eyes joined in. I only had my phone on me so the photos aren't great. All together I saw one young bird and six adult Double Bars. They then went on to feed in on the grasses in the lot behind the nursery. The bird in the picture on the right has feathers parted on its chest which is sometimes a sign it has been sitting on a nest.
Danny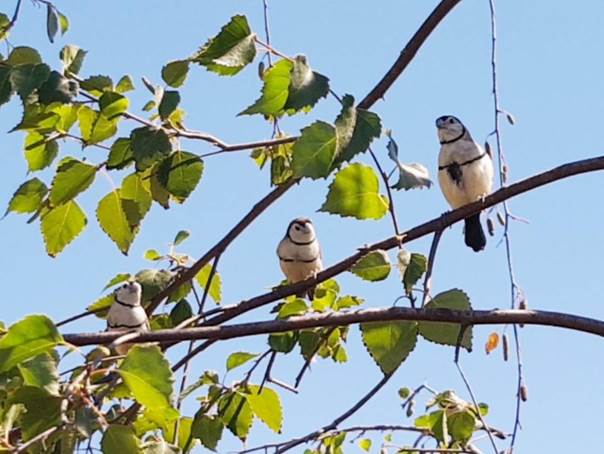 Admin
The University of NSW School of Computer and Engineering takes no responsibility for the contents of this archive. It is purely a compilation of material sent by many people to the Canberra Ornithologists Group mailing list. It has not been checked for accuracy nor its content verified in any way. If you wish to get material removed from the archive or have other queries about the list contact David McDonald, list manager, phone (02) 6231 8904 or email . If you can not contact David McDonald e-mail Andrew Taylor at this address: andrewt@cse.unsw.EDU.AU