| | | |
| --- | --- | --- |
| | canberrabirds | |
Reflection-attacking birds
| | |
| --- | --- |
| To: | Geoffrey Dabb <>, "" <> |
| Subject: | Reflection-attacking birds |
| From: | Ruth Cully <> |
| Date: | Fri, 20 Jul 2018 01:05:16 +0000 |
My apologies - correction - what I was calling a grey ibis is in fact a white faced heron. (It was attacking a glass door near the old ANU physics pond until we chocked the door open.)
Ruth
---
From:
Geoffrey Dabb <>
Sent:
Friday, 20 July 2018 10:55 AM
To:
Subject:
[canberrabirds] Reflection-attacking birds
Thanks for contributions. I attach the list. One thing I notice is that parrots and cockatoos, among our most abundant and inter-active species, are absent from the list. They can be at least playfully aggressive to one another. Perhaps, for some reason, they do not interpret a reflection as a rival. We have a regular pair of cockatoos that not only watches us through the window but occasionally perches on the window ledge and taps on the glass to attract attention.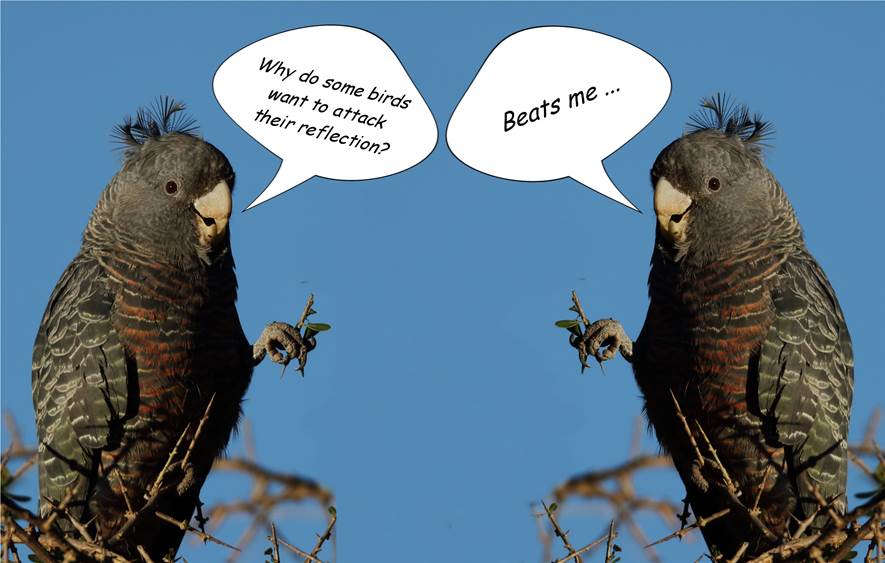 Admin
The University of NSW School of Computer and Engineering takes no responsibility for the contents of this archive. It is purely a compilation of material sent by many people to the Canberra Ornithologists Group mailing list. It has not been checked for accuracy nor its content verified in any way. If you wish to get material removed from the archive or have other queries about the list contact David McDonald, list manager, phone (02) 6231 8904 or email . If you can not contact David McDonald e-mail Andrew Taylor at this address: andrewt@cse.unsw.EDU.AU