| | | |
| --- | --- | --- |
| | canberrabirds | |
FW: FW: [canberrabirds] Queanbeyan Koels
| | |
| --- | --- |
| To: | "" <> |
| Subject: | FW: FW: [canberrabirds] Queanbeyan Koels |
| From: | Geoffrey Dabb <> |
| Date: | Sat, 10 Feb 2018 20:51:56 +0000 |
Yes Martin. To expand my comment, your suburban fragment contained such an enticing view of the lush QGC layout that the golfing chatliner might be induced to lay down binoculars and abandon the quest for distantly-calling koels, and take up the putter and the sand iron.
From: Martin Butterfield [
Sent: Saturday, 10 February 2018 5:19 PM
To: Geoffrey Dabb
Cc: COG List
Subject: Re: FW: [canberrabirds] Queanbeyan Koels
This has been niggling in the back of my brain for the past day. Can I assume it is a reference to the Royal Queanbeyan? One of the very few local golf courses that isn't applying for approval to build a retirement village (or set of luxury timeshares) in its environs.
On 9 February 2018 at 10:52, Geoffrey Dabb <> wrote:
Why do 'birdies' come to mind?
From: Martin Butterfield [
Sent: Friday, 9 February 2018 10:43 AM
To: COG List
Subject: [canberrabirds] Queanbeyan Koels
I took a stroll round Queanbeyan this morning while the Jetta was getting service. All up I noted 29 species. This included at least two Koels giving the wirra wirra call. They were at positions 1 and 2 in the image. There may have been a third at position 3 but in view of the elapsed time it could have been the bird from 1.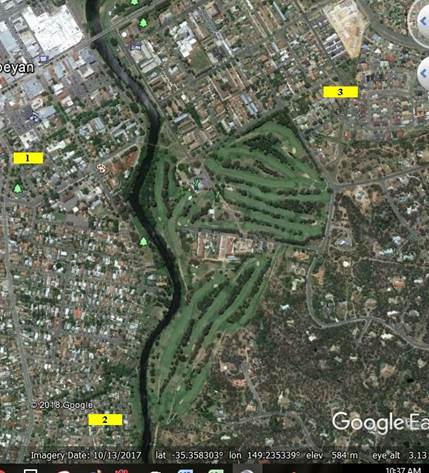 ​
Admin
The University of NSW School of Computer and Engineering takes no responsibility for the contents of this archive. It is purely a compilation of material sent by many people to the Canberra Ornithologists Group mailing list. It has not been checked for accuracy nor its content verified in any way. If you wish to get material removed from the archive or have other queries about the list contact David McDonald, list manager, phone (02) 6231 8904 or email . If you can not contact David McDonald e-mail Andrew Taylor at this address: andrewt@cse.unsw.EDU.AU