Gee, we've been here a few times before. Quick selection below, 3 goshawks above, 4 sparrowhawks below.
BROW of BROWN Goshawk is usually mentioned ( compare with PIGEONEYE of Sparrowhawk)
I think difficulty sometimes arises because in some respects IN ADDITION TO size male goshawk approximates to female sparrowhawk, that is relative weakness of bill and fine-ness of feet compared to female goshawk - no doubt something to do with gender prey specialisation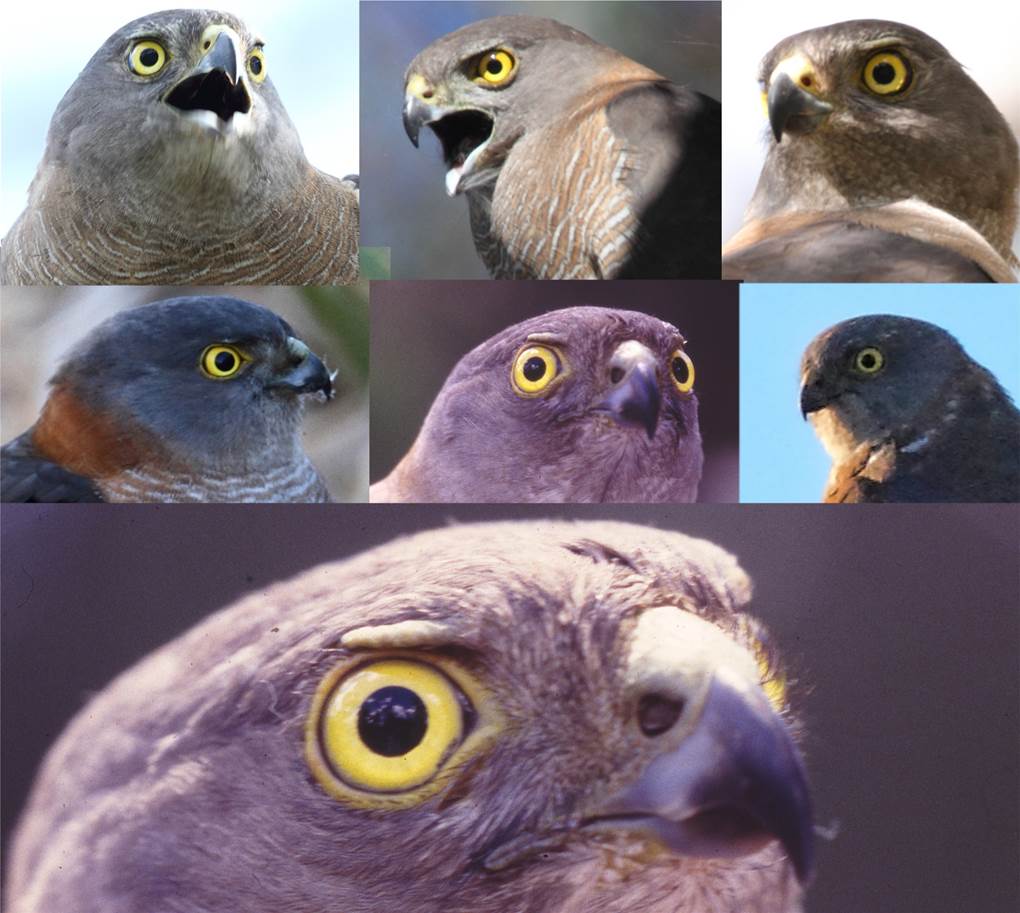 From: Mark Clayton
Sent: Saturday, 3 February 2018 2:19 PM
To:
Subject: Re: [canberrabirds] ANBG: Collared Sparrowhawk or Brown Goshawk?
Robin,
Both birds are youngish Collared Sparrowhawk, possibly from different broods. The best character to pick the two species apart IF you can get a look at the feet, is the extra long middle toe of the sparrowhawk. Another feature, possibly not that reliable in recently fledged young, where the tail feathers may still be growing, or moulting adults, is that sparrowhawks have a squarish to slightly forked tail whereas goshawks are generally round in shape. there are also facial characters that also come in to play. Perhaps Geoffrey Dabb has some good head shots to show the difference.
Mark
On 3/02/2018 1:02 PM, Robin Eckermann wrote:
There were (at least) 3 hawks around the upper tracks at ANBG this morning, and I got snaps of two different birds. I would be grateful if any member could identify them - whether Sparrowhawks or Goshawks (or one of each) - from the pictures below ... and if so, indicate what were the definitive features determining such decision.


Collared Sparrowhawk or Brown Goshawk?
(click on thumbnail for larger image)

--
Regards ... Robin Eckermann
Phone: 02-6161-6161 (w) 0418-630-555 (m)
---