| | | |
| --- | --- | --- |
| | canberrabirds | |
FW: [canberrabirds] divers
| | |
| --- | --- |
| To: | "" <> |
| Subject: | FW: [canberrabirds] divers |
| From: | Geoffrey Dabb <> |
| Date: | Tue, 18 Jul 2017 07:31:05 +0000 |
Following consultation with M. Butterfield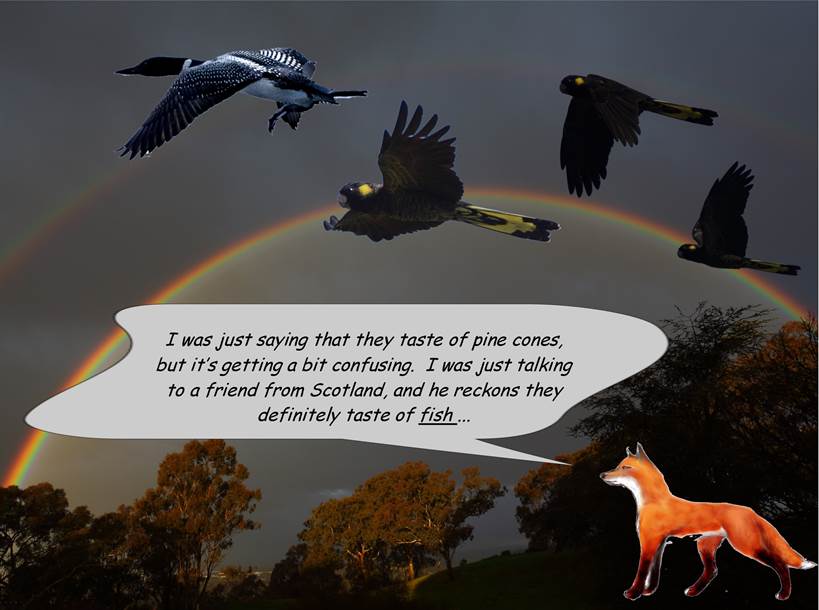 From: Geoffrey Dabb [
Sent: Tuesday, 18 July 2017 4:28 PM
To:
Subject: FW: [canberrabirds] divers
From: Philip Veerman
Sent: Tuesday, 18 July 2017 4:03 PM
To: 'Suzanne EDGAR';
Subject: RE: [canberrabirds] divers
Divers are a northern hemisphere group of birds, order Gaviiformes, also called loons. As far as I can tell from books and film, they look similar to grebes.
From: Suzanne EDGAR
Sent: Tuesday, 18 July, 2017 1:51 PM
To:
Subject: [canberrabirds] divers
A considerable horde of y-tailed black cockatoos flew over Majura parkway on their way to Ikea on Sun morn c. 11 a.m.
a fox in C Brae this morning; pity it missed the cull.
Sz
Admin
The University of NSW School of Computer and Engineering takes no responsibility for the contents of this archive. It is purely a compilation of material sent by many people to the Canberra Ornithologists Group mailing list. It has not been checked for accuracy nor its content verified in any way. If you wish to get material removed from the archive or have other queries about the list contact David McDonald, list manager, phone (02) 6231 8904 or email . If you can not contact David McDonald e-mail Andrew Taylor at this address: andrewt@cse.unsw.EDU.AU