| | | |
| --- | --- | --- |
| | canberrabirds | |
hybrid Eastern/crimson rosella
| | |
| --- | --- |
| To: | COG <> |
| Subject: | hybrid Eastern/crimson rosella |
| From: | Charmian Lawson <> |
| Date: | Sat, 13 May 2017 23:17:55 +0000 |
Hi
I sent this yesterday to COG and it apparently didn't go through – maybe the pictures were too big – if so, my apologies. I have made the smaller. The message is the same:
We had this very pretty bird in our garden this afternoon and think it is a hybrid Eastern/crimson rosella. Unfortunately, as Easterns seem to be, this one was very flighty and didn't stay around for very long at all. One photo is taken through the flyscreen and is not as clear as it should be. I have seen this bird before, recently, in the company of a crimson rosella.
On another note, it's really nice to see the Gang-gangs back – three males and three females yesterday. They have been here only recently, and in much fewer numbers.......
Charmian and Tony Lawson
Holder
Attachment: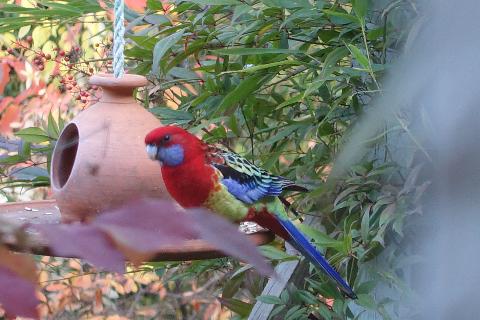 Description: DSC01279.jpg
Attachment: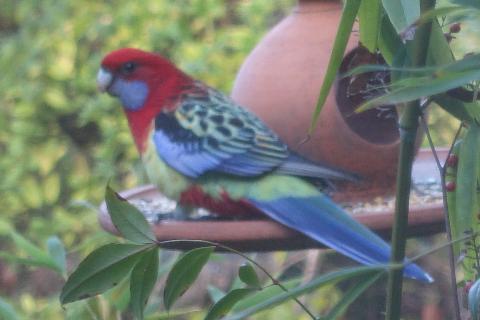 Description: DSC01280.jpg

ATT00001.txt
Description: ATT00001.txt
Admin
The University of NSW School of Computer and Engineering takes no responsibility for the contents of this archive. It is purely a compilation of material sent by many people to the Canberra Ornithologists Group mailing list. It has not been checked for accuracy nor its content verified in any way. If you wish to get material removed from the archive or have other queries about the list contact David McDonald, list manager, phone (02) 6231 8904 or email . If you can not contact David McDonald e-mail Andrew Taylor at this address: andrewt@cse.unsw.EDU.AU