| | | |
| --- | --- | --- |
| | canberrabirds | |
Re: FW: [canberrabirds] Still at JWNR [SEC=UNCLASSIFIED]
| | |
| --- | --- |
| To: | Geoffrey Dabb <> |
| Subject: | Re: FW: [canberrabirds] Still at JWNR [SEC=UNCLASSIFIED] |
| From: | Martin Butterfield <> |
| Date: | Mon, 5 Dec 2016 07:48:03 +0000 |
Here is a Koel distribution map from ebird.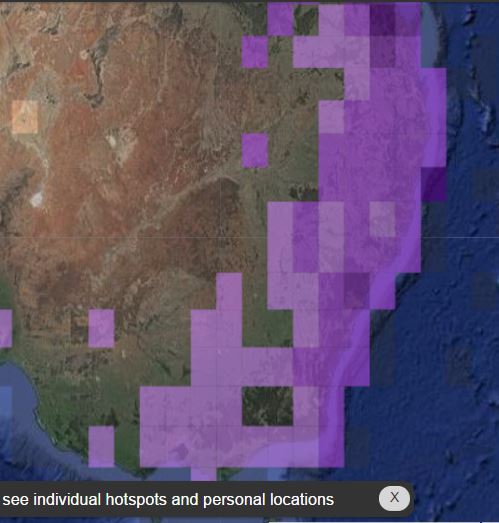 ​Quite a few observations are obviously far from the madding crowd.
They have been recorded a few times in Carwoola (but not, so far, this year). I have had a report of one in Bungendore a few days ago but that is out of my core area of interest - and these days is sort of like a built up area rather than a pleasant rural village.
Admin
The University of NSW School of Computer and Engineering takes no responsibility for the contents of this archive. It is purely a compilation of material sent by many people to the Canberra Ornithologists Group mailing list. It has not been checked for accuracy nor its content verified in any way. If you wish to get material removed from the archive or have other queries about the list contact David McDonald, list manager, phone (02) 6231 8904 or email . If you can not contact David McDonald e-mail Andrew Taylor at this address: andrewt@cse.unsw.EDU.AU