| | | |
| --- | --- | --- |
| | canberrabirds | |
Nature in Canberra
| | |
| --- | --- |
| To: | 'Geoffrey Dabb' <>, "" <> |
| Subject: | Nature in Canberra |
| From: | Philip Veerman <> |
| Date: | Sat, 3 Dec 2016 02:30:45 +0000 |
Interesting that this ACT Dwarf Raven (C.c. minimus) shows a strong blue tinge to what I am assuming are its new feathers: the whole row of greater wing coverts and some lesser wing coverts and the (no assumption new) centre primaries & secondaries, a shine that appears to have worn off from last year's now old feathers. In contrast the sad Stencilled Hairstreak doesn't get a chance at a replacement glossy set of scales on its wings.
Philip
From: Geoffrey Dabb [
Sent: Saturday, 3 December, 2016 11:22 AM
To:
Subject: [canberrabirds] Nature in Canberra
This pretty butterfly was snapped this morning in Campbell Park. I learn from Michael Braby's excellent field guide that it is known as the 'Stencilled Hairstreak'. The size of the insect may be gauged from a comparison with the Dwarf Raven.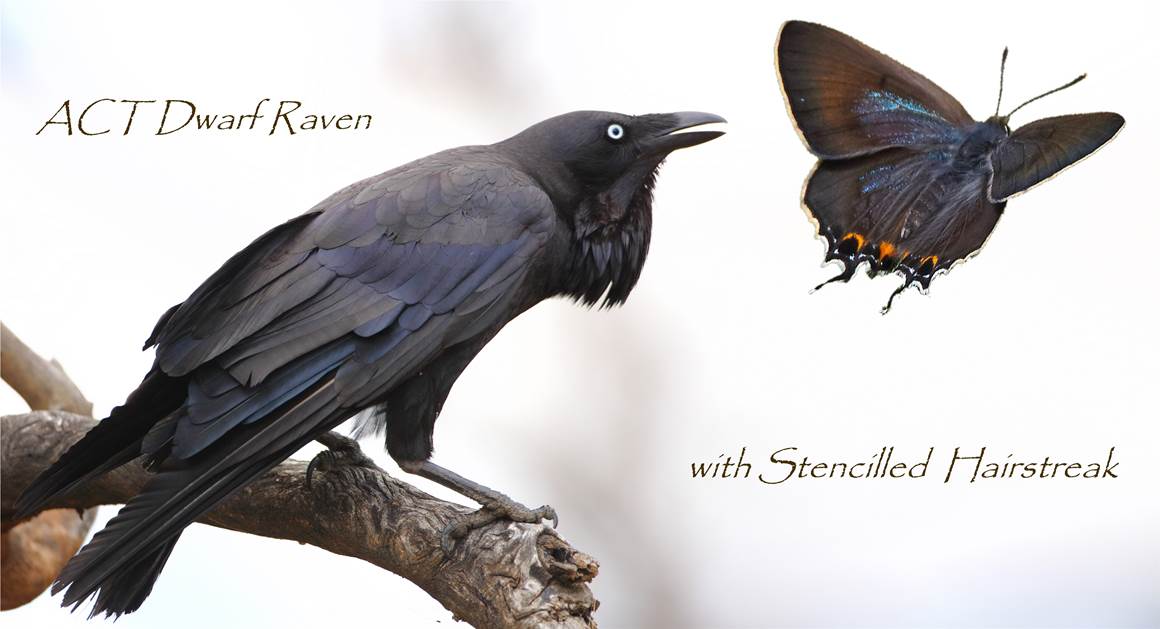 Admin
The University of NSW School of Computer and Engineering takes no responsibility for the contents of this archive. It is purely a compilation of material sent by many people to the Canberra Ornithologists Group mailing list. It has not been checked for accuracy nor its content verified in any way. If you wish to get material removed from the archive or have other queries about the list contact David McDonald, list manager, phone (02) 6231 8904 or email . If you can not contact David McDonald e-mail Andrew Taylor at this address: andrewt@cse.unsw.EDU.AU