| | | |
| --- | --- | --- |
| | canberrabirds | |
Upsidedown headed bird
| | |
| --- | --- |
| To: | Canberra Birds <> |
| Subject: | Upsidedown headed bird |
| From: | "calyptorhynchus ." <> |
| Date: | Tue, 20 Sep 2016 04:43:34 +0000 |
Following Sandra's recent email I paid a visit to Badja River Reserve at Numeralla to photograph Yellow-tufted Honeyeters.


I did get a couple of good shots but this poor shot shows the extreme flexibility of the YTH's neck and I thought it might amuse people.
Two almost fully-grown immature YTH's were observed, indicating mid-winter breeding at the site.
Also seen were Australian Ravens with immatures and Little Ravens only just beginning to breed (carrying sticks to nest) and in the paddocks over the bridge Diamond Firetail and Brown Treecreeper.
And at Jacobs Rd river frontage I saw a platypus!
Attachment: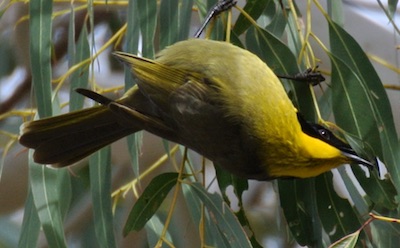 Description: YT H'eater.jpg

ATT00001.txt
Description: ATT00001.txt
<Prev in Thread]
Current Thread
[Next in Thread>

Upsidedown headed bird, calyptorhynchus . <=
Admin
The University of NSW School of Computer and Engineering takes no responsibility for the contents of this archive. It is purely a compilation of material sent by many people to the Canberra Ornithologists Group mailing list. It has not been checked for accuracy nor its content verified in any way. If you wish to get material removed from the archive or have other queries about the list contact David McDonald, list manager, phone (02) 6231 8904 or email . If you can not contact David McDonald e-mail Andrew Taylor at this address: andrewt@cse.unsw.EDU.AU