| | | |
| --- | --- | --- |
| | canberrabirds | |
Out of area ID -Spider [SEC=UNCLASSIFIED]
| | |
| --- | --- |
| To: | Canberra Birds <> |
| Subject: | Out of area ID -Spider [SEC=UNCLASSIFIED] |
| From: | "Hawkins, Brian" <> |
| Date: | Wed, 14 Sep 2016 04:25:12 +0000 |
G'day Denise,
Here's the verdict of a spider expert from the QLD museum:
'It is a Tube (trapdoor) spider, presently in the genus Misgolas (probably a named species but I'd need the animal for that), but soon will be placed in another genus. It is not dangerous, no relation to a funnelweb.'
Best regards,
Brian
From: Denise Kay
Sent: Wednesday, 14 September 2016 10:28 AM
To: Canberra Birds
Subject: [canberrabirds] Out of area ID -Spider
Can I please beg the indulgence of the group in ID'ing this quite sizeable spider I discovered in my garden this morning. Probably about 2-2.5 cm head to tail.
I suspect a Funnell web but I have never encountered one in Canberra before .
The photo on the right is a tunnel/funnell type web that I pulled out of a tree fern exposing the spider.That was a shock !!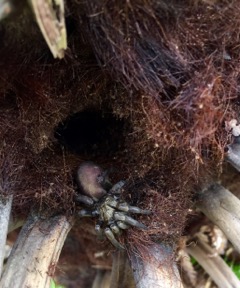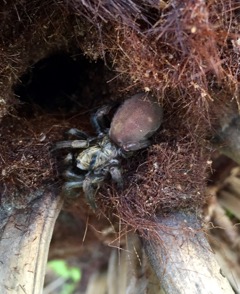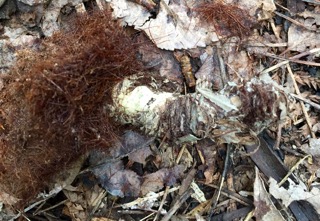 Denise
Giralang Pond Landcare Group
<Prev in Thread]
Current Thread
[Next in Thread>

Out of area ID -Spider [SEC=UNCLASSIFIED], Hawkins, Brian <=
Admin
The University of NSW School of Computer and Engineering takes no responsibility for the contents of this archive. It is purely a compilation of material sent by many people to the Canberra Ornithologists Group mailing list. It has not been checked for accuracy nor its content verified in any way. If you wish to get material removed from the archive or have other queries about the list contact David McDonald, list manager, phone (02) 6231 8904 or email . If you can not contact David McDonald e-mail Andrew Taylor at this address: andrewt@cse.unsw.EDU.AU