| | | |
| --- | --- | --- |
| | canberrabirds | |
Egg/nest query
| | |
| --- | --- |
| To: | 'Marnix Zwankhuizen' <>, "" <> |
| Subject: | Egg/nest query |
| From: | Philip Veerman <> |
| Date: | Sun, 4 Sep 2016 08:46:59 +0000 |
This must be at 90 degrees! My first reaction and if the bird you saw fits as a good option, is it looks very much like nest & eggs of a Grey Shrike-thrush. I just looked at Beruldsen's "nest & eggs" book. And the description of both, plus the placement you describe fits your photo very well. If not that, then probably something related, such as Whistlers.
Philip
From: Marnix Zwankhuizen [
Sent: Sunday, 4 September, 2016 4:56 PM
To:
Subject: [canberrabirds] Egg/nest query
I stumbled across this nest this morning along Condor Creek. The nest was about two metres up a ribbon gum among peeling bark and wedged atop a branch fork. The bird was on the nest and shot silently down into the undergrowth not to be seen again. I took this quick photo and left.





Any ideas which species lays these eggs and builds this type of nest?





Cheers


Marnix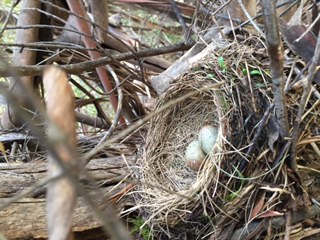 Admin
The University of NSW School of Computer and Engineering takes no responsibility for the contents of this archive. It is purely a compilation of material sent by many people to the Canberra Ornithologists Group mailing list. It has not been checked for accuracy nor its content verified in any way. If you wish to get material removed from the archive or have other queries about the list contact David McDonald, list manager, phone (02) 6231 8904 or email . If you can not contact David McDonald e-mail Andrew Taylor at this address: andrewt@cse.unsw.EDU.AU