| | | |
| --- | --- | --- |
| | canberrabirds | |
FW: June Gang-gang and Annual Bird Report issue of Canberra Bird Notes n
| | |
| --- | --- |
| To: | "" <> |
| Subject: | FW: June Gang-gang and Annual Bird Report issue of Canberra Bird Notes now available online |
| From: | Geoffrey Dabb <> |
| Date: | Mon, 30 May 2016 23:05:35 +0000 |
To me one of the more interesting contributions of the ABR is the omnibus table of recorded species at the back. At the last COG mtg I discussed our 'most common' woodland birds as revealed by the WOO surveys, where the level of effort and spaces surveyed remain much the same year to year. A fairly consistent pattern over the last two years. The cut-off at 11 is reasonable as there is a large step-down to number 12. In 2014-15 the Greater Western Sydney is the SFW which has evicted the Spotted Pardalote, leaping to number 8.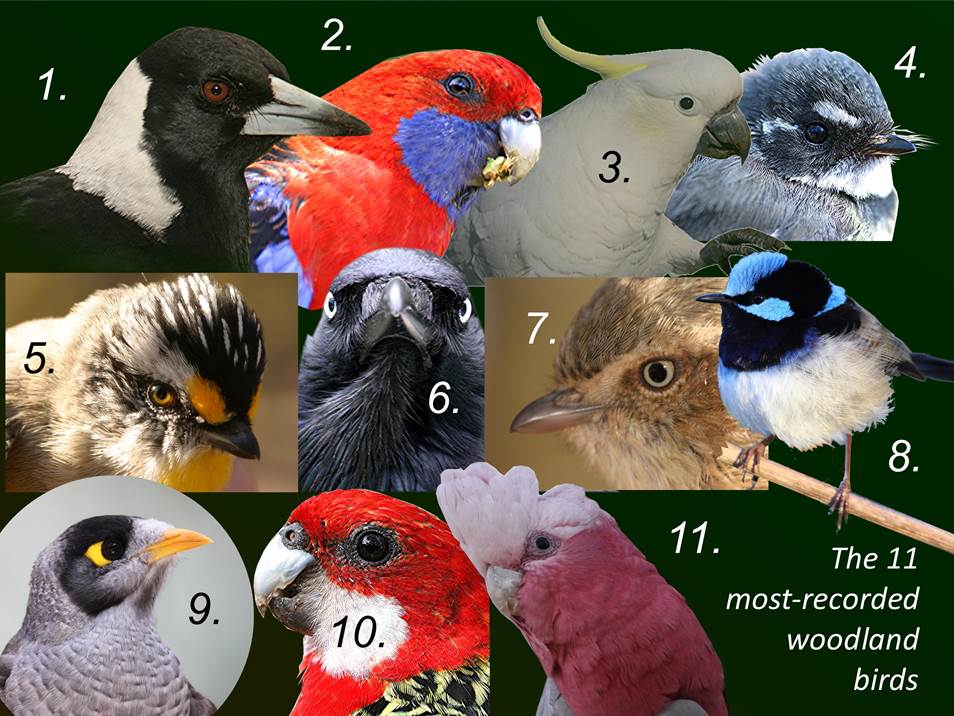 From: sandra henderson [
Sent: Monday, 30 May 2016 11:14 AM
To:
Subject: June Gang-gang and Annual Bird Report issue of Canberra Bird Notes now available online
Please note: membership subscriptions are due July 1 each year. Unless you have already renewed your membership, or have joined COG since April 1 this year, memberships for next financial year are due soon. Lia will be taking payments at coming meetings, or pay online using direct deposit (but be sure to include your name as an identifier).
Payment can also be made by cheque or money order to COG's postal address.
Please also note that the deadline for July Gang-gang contributions will be Friday 24 June, 5 days earlier than usual.
June Gang-gang is now available at
Canberra Bird Notes (2014-15 Annual Bird Report edition) is available at
<Prev in Thread]
Current Thread
[Next in Thread>

FW: June Gang-gang and Annual Bird Report issue of Canberra Bird Notes now available online, Geoffrey Dabb <=
Admin
The University of NSW School of Computer and Engineering takes no responsibility for the contents of this archive. It is purely a compilation of material sent by many people to the Canberra Ornithologists Group mailing list. It has not been checked for accuracy nor its content verified in any way. If you wish to get material removed from the archive or have other queries about the list contact David McDonald, list manager, phone (02) 6231 8904 or email . If you can not contact David McDonald e-mail Andrew Taylor at this address: andrewt@cse.unsw.EDU.AU