Or at the new Dickson wetlands in October 2011. They were feeding on the recently seeded surrounds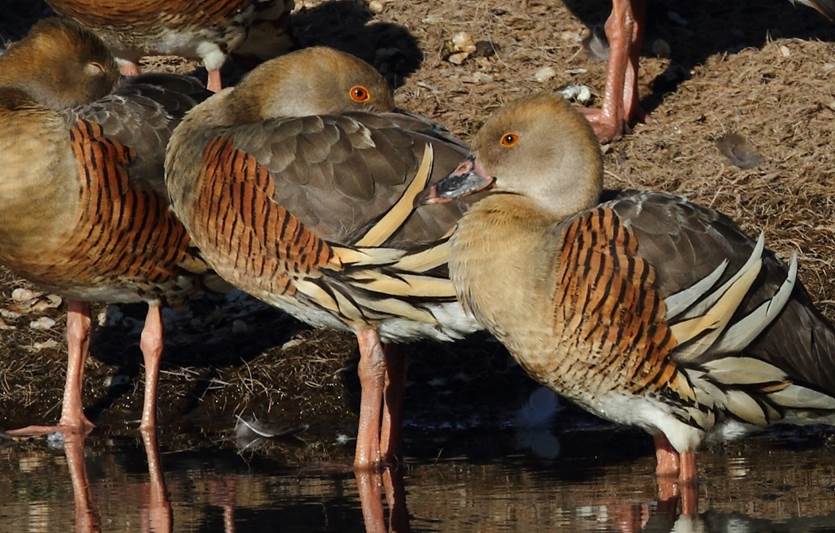 From: Perkins, Harvey [
Sent: Thursday, 26 May 2016 3:46 PM
To: 'Cog line'
Subject: RE: [canberrabirds] Plumed Whistling Ducks on Sunday - Bungendore
I saw 32 Plumed Whistling Ducks at Kellys Swamp on 6 January 2012. I'm sure the database will have further records.
Harvey Perkins
From: Steve Read
Sent: Thursday, 26 May 2016 3:30 PM
To: 'Cog line'
Subject: RE: [canberrabirds] Plumed Whistling Ducks on Sunday - Bungendore
Not to forget the occasional individual Plumed Whistling-duck at Jerrabomberra Wetlands.
Steve
From: sandra henderson
Sent: Thursday, 26 May 2016 1:26 PM
To: Peter S Cranston <>; Cog line <m("canberrabirds.org.au","canberrabirds");">>
Subject: Re: [canberrabirds] Plumed Whistling Ducks on Sunday - Bungendore
I have in the past seen Plumed Whistling ducks at the Sewage Works, at the dam in the paddock on Ellendon St, as well as in a paddock on the highway approaching Bungendore (opposite side of road from Trucking Yard Lane)
On 26 May 2016 at 12:57, Peter S Cranston <> wrote:
On Tuesday (mid-morning) at Trucking Yard Lane there were 32 Australian shelduck and 34 Plumed whistling duck (+ usual suspects). 2 days later (10 am this morning) shelducks numbered 72 and whistling duck were 26. Combined with Jean's observations on Sunday (3 and c 21) previously observed short-term fluctuations in numbers are confirmed. Like Martin Butterfield I have never seen whistling duck on any other local water body, but shelduck can be in many local paddocks and the sewage works.

---

From: casburnj <>
Sent: Tuesday, May 24, 2016 6:04:28 PM
To: canberrabirds
Subject: [canberrabirds] Plumed Whistling Ducks on Sunday - Bungendore

Trucking Yard Lane, about 21 Plumed Whistling Duck, lots of Grey Teal, Hundreds of Galah and Sulphur Crested Cockatoo, and 3 Australian Shellduck.

At the sewerage works, quite a few beautiful Shoveler and Grey Teal, 3 Australasian Grebe and Australasian Coot.

Jean
No virus found in this message.
Checked by AVG - www.avg.com
Version: 2016.0.7598 / Virus Database: 4568/12296 - Release Date: 05/25/16
*************************************************************************
The information contained in this e-mail, and any attachments to it,
is intended for the use of the addressee and is confidential. If you
are not the intended recipient you must not use, disclose, read,
forward, copy or retain any of the information. If you received this
e-mail in error, please delete it and notify the sender by return
e-mail or telephone.
The Commonwealth does not warrant that any attachments are free
from viruses or any other defects. You assume all liability for any
loss, damage or other consequences which may arise from opening
or using the attachments.
The security of emails transmitted in an unencrypted environment
cannot be guaranteed. By forwarding or replying to this email, you
acknowledge and accept these risks.
*************************************************************************