| | | |
| --- | --- | --- |
| | canberrabirds | |
FW: [canberrabirds] Big (?) day
| | |
| --- | --- |
| To: | "" <> |
| Subject: | FW: [canberrabirds] Big (?) day |
| From: | Geoffrey Dabb <> |
| Date: | Sat, 14 May 2016 23:26:30 +0000 |
No surprise. These were part of a single aggregation of about 1000 birds, all in view at one time (November 2015)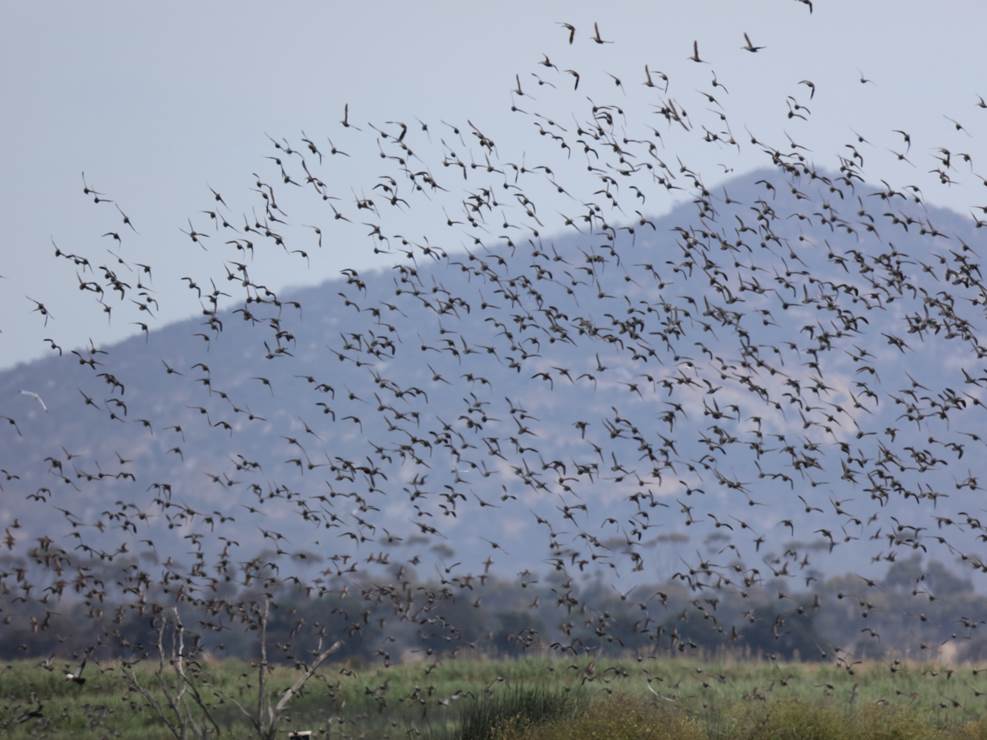 From: Martin Butterfield [
Sent: Sunday, 15 May 2016 7:12 AM
To: Chris Davey
Cc: COG List
Subject: Re: [canberrabirds] Big (?) day
There were another 51 on Kellys at the same time for a total of 203. The maximum number reported in the Big Day is 1000 at the Western Treatment Plant at Werribee.
On 14 May 2016 at 20:46, Chris Davey <> wrote:
I managed six checklists with the Musk Duck on Yerrabi Pond and Tree Martins at Palmerville District Park being the highlights for me. The COG survey in mid-April at the FSP managed 294 Pink-eared Ducks so they are certainly hanging around.
I was keen to go at Mulligans Flat this morning but the fog did not lift until 10:30.
Chris
From: Martin Butterfield [
Sent: Saturday, May 14, 2016 6:21 PM
To: COG List
Subject: [canberrabirds] Big (?) day
I managed 52 species through my 7 checklists. The most exciting sighting was 152 Pink-eared Ducks on the Fyshwick Sewage ponds, viwed from Dairy Road through a scope. A great pity that someone drove an ICON Water branded ute ariund and disturbed all the birds. Unfortunately they didn't stop and give me an opportunity to point the error of their ways out to them.
It would be good to hear through a post from the COG Committee to this chatline what is being done to restore birding access to the ponds.
<Prev in Thread]
Current Thread
[Next in Thread>

FW: [canberrabirds] Big (?) day, Geoffrey Dabb <=
Admin
The University of NSW School of Computer and Engineering takes no responsibility for the contents of this archive. It is purely a compilation of material sent by many people to the Canberra Ornithologists Group mailing list. It has not been checked for accuracy nor its content verified in any way. If you wish to get material removed from the archive or have other queries about the list contact David McDonald, list manager, phone (02) 6231 8904 or email . If you can not contact David McDonald e-mail Andrew Taylor at this address: andrewt@cse.unsw.EDU.AU