| | | |
| --- | --- | --- |
| | canberrabirds | |
ID help please
| | |
| --- | --- |
| To: | 'Murray DELAHOY' <>, 'COG Chatline' <> |
| Subject: | ID help please |
| From: | Philip Veerman <> |
| Date: | Wed, 11 May 2016 04:14:45 +0000 |
Would be a juv Aust. Shelduck. Pizzey's book says for Imm: "duller, paler; head speckled white". Hard to imagine any species it would hybridise with in (southern) Australia. None of the 3 main field guides show a juv. HANZAB does. What looks odd about this photo is it appears to have a mostly whitish breast.
Philip
From: Murray DELAHOY [
Sent: Wednesday, 11 May, 2016 9:29 AM
To: COG Chatline
Subject: [canberrabirds] ID help please
On a recent trip to far-western NSW (near Lake Tandou) I saw a strange duck that I can't identify - see photo below. (I suspect it might be a shelduck hybrid .. maybe). In flight, bright white leading edges to the wings were obvious. It was puddling around in the shallows on an irrigation pond/channel. I had the impression that it had long legs.
Any help or thoughts would be appreciated.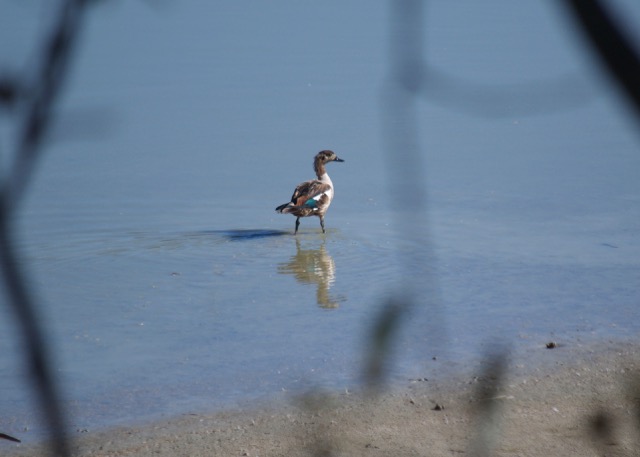 Admin
The University of NSW School of Computer and Engineering takes no responsibility for the contents of this archive. It is purely a compilation of material sent by many people to the Canberra Ornithologists Group mailing list. It has not been checked for accuracy nor its content verified in any way. If you wish to get material removed from the archive or have other queries about the list contact David McDonald, list manager, phone (02) 6231 8904 or email . If you can not contact David McDonald e-mail Andrew Taylor at this address: andrewt@cse.unsw.EDU.AU