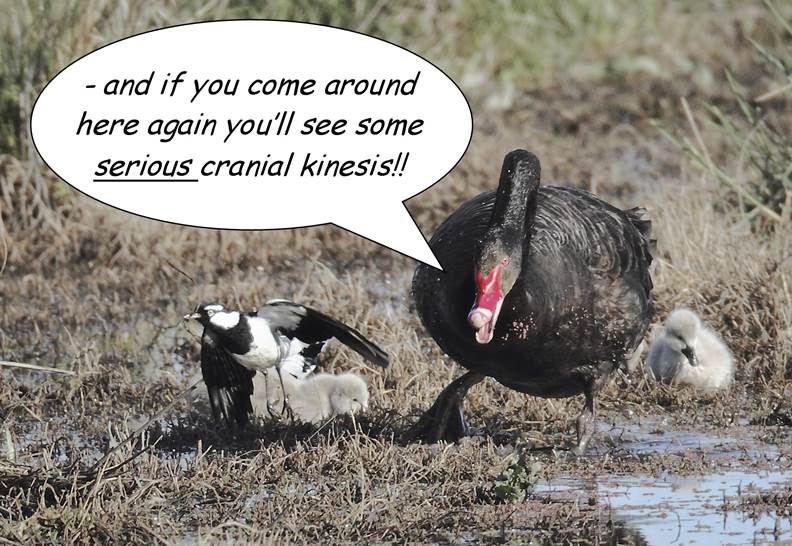 -----Original Message-----
From: Philip Veerman [
Sent: Monday, 9 May 2016 9:28 AM
To: 'canberrabirds chatline'
Subject: Image of Black Swan
What I wrote yesterday was correct in intention (I had the right mental image) but half wrong by missing out one link. So before anyone with a clearer head corrects me, I will. "Anatomically moving the quadrate bone forward without moving the palatine bone", should be: Anatomically moving the quadrate bone forward without moving the jugal bone forward against the palatine bone." (The palatine bone hardly moves at all.)
Philip
-----Original Message-----
From: Philip Veerman [m("pcug.org.au","pveerman");">]
Sent: Sunday, 8 May, 2016 5:49 PM
To: 'Con Boekel'; 'canberrabirds chatline'
Subject: RE: [canberrabirds] Image of Black Swan
Certainly a nice close photo, to which I will comment on this and other comments:
The serrations are normal and usually hidden when the beak is closed. I don't know if these structures are in the bone at all. I suspect not, (I do have a swan's skull in my collection and don't recall seeing this). It is likely to be just part of the keratin layer of the beak. Some cartoonists like to show birds with teeth, Daffy Duck I think commonly. Maybe that came from pictures like this one. Anyone could easily say it looks like it has teeth but it does not, of course.
As you have noticed, there is a bit of cranial kinesis there, although in the reverse of what we usually see, as in it is extending the jaw hinge from the base (I think anatomically moving the quadrate bone forward without moving the palatine bone,) rather than extending the tip.
As for where to find Black Swans outside Aus. They are....... I was a bit surprised to see them in a botanical garden adjoining the zoo in Wuhan, China.
Philip
*******************************************************************************************************
This is the email announcement and discussion list of the Canberra Ornithologists Group.
Emails posted to the list that exceed 200 kB in size, including attachments, will be rejected.
All emails distributed via the list are archived at http://bioacoustics.cse.unsw.edu.au/archives/html/canberrabirds. It is a condition of list membership that you agree to your contributions being archived.
When subscribing or unsubscribing, please insert the word 'Subscribe' or 'Unsubscribe', as applicable, in the email's subject line.
List-Post: <m("canberrabirds.org.au","canberrabirds");">>
List-Help: <m("canberrabirds.org.au","canberrabirds-help");">>
List-Unsubscribe: <m("canberrabirds.org.au","canberrabirds-unsubscribe");">>
List-Subscribe: <m("canberrabirds.org.au","canberrabirds-subscribe");">>
List manager: David McDonald, email <m("canberrabirds.org.au","coglists-owner");">>