| | | |
| --- | --- | --- |
| | canberrabirds | |
FW: Bird play coming to Canberra
| | |
| --- | --- |
| To: | canberrabirds chatline <> |
| Subject: | FW: Bird play coming to Canberra |
| From: | Julian Robinson <> |
| Date: | Wed, 4 May 2016 13:09:27 +0000 |
Attached (if within chatline size limits) is an advert for a show at the end of the month by Steve Abbott, once The Sandman and then a birding enthusiast. It promises to be just the thing for Canberra birdos and I imagine it has humour as well as birds and an even more serious side.
28/5/16 and 29/5/16 at the Street Theatre
http://dailycapital.com.au/canberra_events/what-happened-to-sandman-or-how-i-became-a-birdwatcher/
Julian
--
From: Evan Croker [
Sent: Tuesday, 3 May 2016 4:57 PM
To: ;
Subject: Bird play coming to Canberra
Hi Julian and Sue,
I'm working with comedian Steve Abbott, who is coming to Canberra with a play about his birdwatching passions and life in show business on May 28 and 29.
The show is full of bird anecdotes, images and sounds with fun identify-that-bird moments.
Hope to see you at the show!
Writer/Director/Sound and Video

Attachment: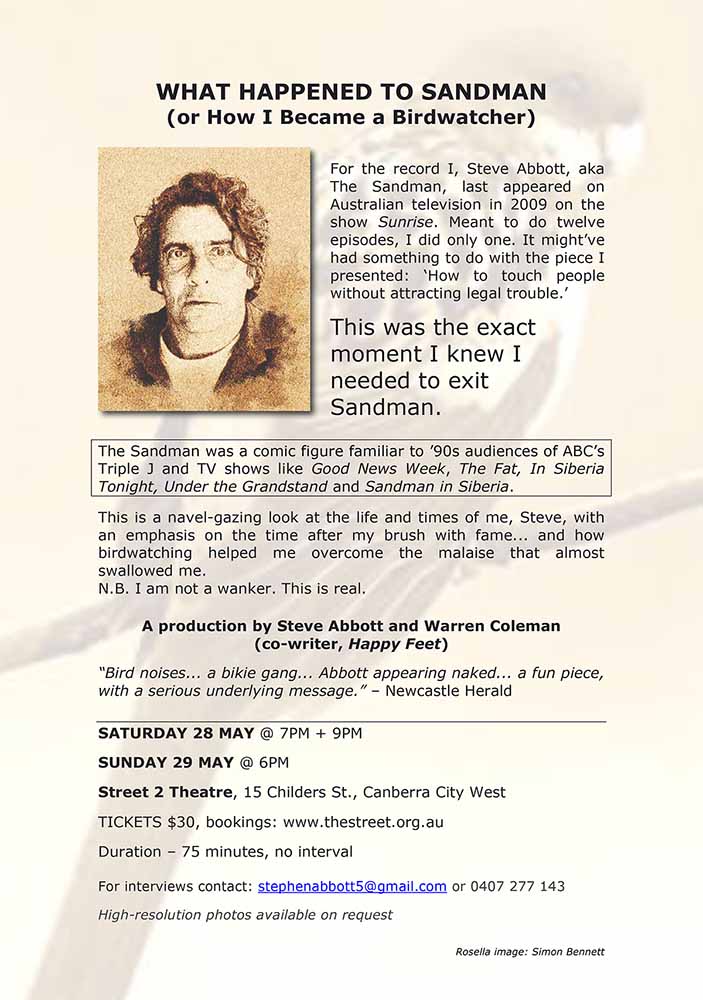 Description: What Happened to Sandman press releaseSM.JPG

ATT00001.txt
Description: ATT00001.txt
Admin
The University of NSW School of Computer and Engineering takes no responsibility for the contents of this archive. It is purely a compilation of material sent by many people to the Canberra Ornithologists Group mailing list. It has not been checked for accuracy nor its content verified in any way. If you wish to get material removed from the archive or have other queries about the list contact David McDonald, list manager, phone (02) 6231 8904 or email . If you can not contact David McDonald e-mail Andrew Taylor at this address: andrewt@cse.unsw.EDU.AU