| | | |
| --- | --- | --- |
| | canberrabirds | |
RE: Choughs in inner Ainslie
| | |
| --- | --- |
| To: | "Canberra Birds " <> |
| Subject: | RE: Choughs in inner Ainslie |
| From: | Robin Hide <> |
| Date: | Mon, 29 Feb 2016 02:59:43 +0000 |
6 Ww Choughs worked our front garden this afternoon: 4 adults and apparently two young ones.
One of the adults had been banded: this was the best shot I could get of the band (any use to anyone?)-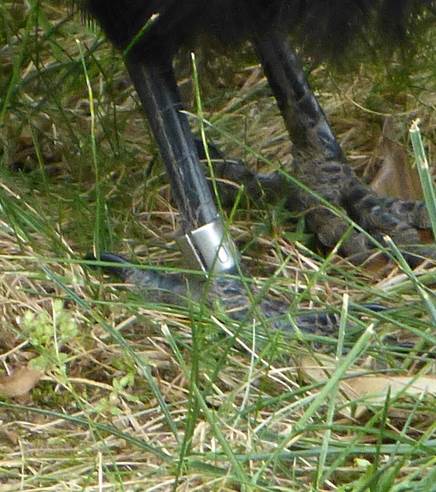 Robin Hide
From: Robin Hide [
Sent: Tuesday, 16 February 2016 4:26 PM
To: Canberra Birds
Subject: [canberrabirds] Choughs in inner Ainslie
This is the first time in 25 years I have seen Ww Choughs in Toms Crescent, Ainslie in 25 years.
(In 2008 a group nested on the other side of Corroboree Park on the corner of Leslie and Campbell Streets).
White-winged Choughs, Toms Crescent, Ainslie. 16 Feb 2016. 15.55hrs.
Robin Hide
Admin
The University of NSW School of Computer and Engineering takes no responsibility for the contents of this archive. It is purely a compilation of material sent by many people to the Canberra Ornithologists Group mailing list. It has not been checked for accuracy nor its content verified in any way. If you wish to get material removed from the archive or have other queries about the list contact David McDonald, list manager, phone (02) 6231 8904 or email . If you can not contact David McDonald e-mail Andrew Taylor at this address: andrewt@cse.unsw.EDU.AU