| | | |
| --- | --- | --- |
| | canberrabirds | |
Immature Pallid Cuckoo at Kelly Road, Williamsdale (i.d. confirmation re
| | |
| --- | --- |
| To: | 'Steve Read' <>, 'canberra birds' <> |
| Subject: | Immature Pallid Cuckoo at Kelly Road, Williamsdale (i.d. confirmation requested) |
| From: | Philip Veerman <> |
| Date: | Sat, 30 Jan 2016 11:13:21 +0000 |
Yes. Or perhaps more correct a juvenile PC. The overall speckled black white & grey is obvious. At a distance the large amount of white speckling on the wing coverts makes it look a bit like a Cockatiel.
From: Steve Read [
Sent: Saturday, 30 January 2016 6:02 PM
To: 'canberra birds'
Subject: [canberrabirds] Immature Pallid Cuckoo at Kelly Road, Williamsdale (i.d. confirmation requested)
This fellow was eating caterpillars in the apple box trees along Kelly Road, Williamsdale, this morning, and was captured by Lach with his camera. Can anyone confirm the identification as an immature Pallid Cuckoo?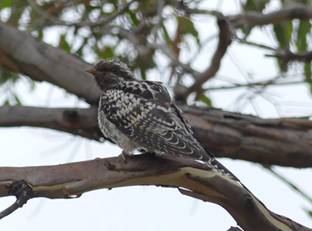 Steve
Admin
The University of NSW School of Computer and Engineering takes no responsibility for the contents of this archive. It is purely a compilation of material sent by many people to the Canberra Ornithologists Group mailing list. It has not been checked for accuracy nor its content verified in any way. If you wish to get material removed from the archive or have other queries about the list contact David McDonald, list manager, phone (02) 6231 8904 or email . If you can not contact David McDonald e-mail Andrew Taylor at this address: andrewt@cse.unsw.EDU.AU