| | | |
| --- | --- | --- |
| | canberrabirds | |
Whistler i.d. please (Brindabellas)
| | |
| --- | --- |
| To: | 'Steve Read' <>, 'canberra birds' <> |
| Subject: | Whistler i.d. please (Brindabellas) |
| From: | Mark Clayton <> |
| Date: | Thu, 7 Jan 2016 02:27:59 +0000 |
Hi Steve,
No doubt Geoffrey Dabb will send his Golden Whistler photos again!! Your bird is an adult female Golden Whistler. It is not a juvenile or "immature" as it is not showing any rufous in the wing coverts (the smaller feathers that cover to main flight feathers) nor does it show any rufous eyestripe.
Cheers,
Mark
From: Steve Read [
Sent: Thursday, 7 January 2016 12:39 PM
To: 'canberra birds'
Subject: [canberrabirds] Whistler i.d. please (Brindabellas)
Many thanks to those who confirmed as Little Eagle the raptor posted for identification to the chatline yesterday.
The other doubtful birds seen in the Brindabellas yesterday were several whistlers along Pabral road by the old Blundells Flat arboretum site. Discussion at the time covered Olive Whistler, or female or young Golden Whistler (recognized as Canberra's most asked-about species, according to Geoffrey Dabb). Photographs of the only two individuals that allowed Lach to take good photographs are below (Ryu has photographs of other individuals). Most birds were grey-brown to olive-brown on top, mid-grey underneath, unstreaked, with a paler throat. I am not familiar with Olive Whistler so hesitated with that identification! Advice please.
Rufous Whistlers, both male and female, were also present.
Thanks
Steve
First bird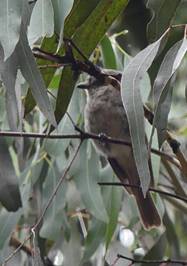 Second bird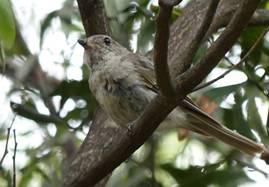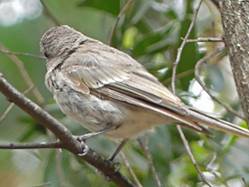 Admin
The University of NSW School of Computer and Engineering takes no responsibility for the contents of this archive. It is purely a compilation of material sent by many people to the Canberra Ornithologists Group mailing list. It has not been checked for accuracy nor its content verified in any way. If you wish to get material removed from the archive or have other queries about the list contact David McDonald, list manager, phone (02) 6231 8904 or email . If you can not contact David McDonald e-mail Andrew Taylor at this address: andrewt@cse.unsw.EDU.AU