| | | |
| --- | --- | --- |
| | canberrabirds | |
Raptor i.d. please (Brindabellas)
| | |
| --- | --- |
| To: | 'Steve Read' <>, 'canberra birds' <> |
| Subject: | Raptor i.d. please (Brindabellas) |
| From: | Philip Veerman <> |
| Date: | Wed, 6 Jan 2016 07:35:48 +0000 |
Little Eagle is certainly correct. The shortish, fairly square and barred tail, the dark head markings make that clear. I don't know if it can be determined to age. Young birds are reddish.
Philip
From: Steve Read [
Sent: Wednesday, 6 January 2016 5:09 PM
To: 'canberra birds'
Subject: [canberrabirds] Raptor i.d. please (Brindabellas)
Assistance please with identification of a raptor seen by four observers this morning near Curries Road at Condor Creek in the Brindabellas (see Lach Read's photographs below - let me know if they don't make it through the various e-filters and I'll resend as attachments).
At the time we settled after some discussion on juvenile Little Eagle. However, we were worried that the bird appeared somewhat smaller than expected for that species. It was not possible to get a good view of the legs to see if they were or were not feathered.
Thanks
Steve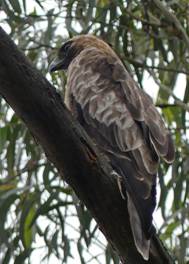 Admin
The University of NSW School of Computer and Engineering takes no responsibility for the contents of this archive. It is purely a compilation of material sent by many people to the Canberra Ornithologists Group mailing list. It has not been checked for accuracy nor its content verified in any way. If you wish to get material removed from the archive or have other queries about the list contact David McDonald, list manager, phone (02) 6231 8904 or email . If you can not contact David McDonald e-mail Andrew Taylor at this address: andrewt@cse.unsw.EDU.AU