| | | |
| --- | --- | --- |
| | canberrabirds | |
FW: [canberrabirds] Jerra Wetlands turns 25
| | |
| --- | --- |
| To: | "" <> |
| Subject: | FW: [canberrabirds] Jerra Wetlands turns 25 |
| From: | Geoffrey Dabb <> |
| Date: | Sat, 29 Aug 2015 23:25:43 +0000 |
Unexpected visitors? Well there was the 2010 Xmas card …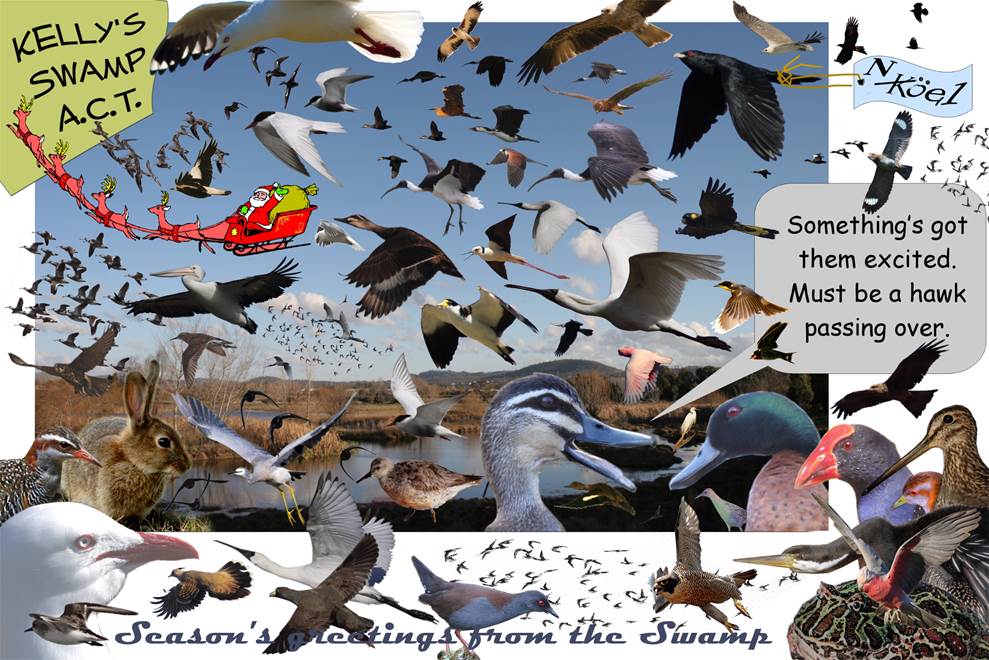 From: Denis Wilson [
Sent: Sunday, 30 August 2015 2:05 AM
To: Mark Clayton
Cc: kym bradley;
Subject: Re: [canberrabirds] Jerra Wetlands turns 25
Very true, Mark Clayton
But what you remember was affectionately known as Kelly's Swamp.
It got renamed to suit the self-conscious leaders of our National Capital, who could not bear to think that the best birding site in Canberra might be a "swamp", let alone the occasional overflow drainage area from a Poo Works.
Of course it had to be renamed.
I recall Geoffrey Dabb writing about another very early COG member (who moved to the Coast) having done lots of birding there too. It was also one of my father's favourite spots for an occasional "check out" in case there was something odd there. And that is a habit he probably inherited from Don Lamm (of blessed memory).
I note that there has been a Rose Robin there recently, just to make that point about unexpected visitors.

On Saturday, 29 August 2015, Mark Clayton <> wrote:
Interesting that the reserve is only turning 25, a bit like saying Australia is only 228 years old!. I am 65 and the area was an important bird area in the 1960's when two young birdo's, Robert Gibson and Robin Brown, started surveying the site. Former COG President Barry Baker joined them as did I and others later in the 60's. It has been the site of many of COG's wetland records since that time. I assume they are referring to the date it was officially declared a reserve.
mark


--
Sent from Gmail Mobile
<Prev in Thread]
Current Thread
[Next in Thread>

FW: [canberrabirds] Jerra Wetlands turns 25, Geoffrey Dabb <=
Admin
The University of NSW School of Computer and Engineering takes no responsibility for the contents of this archive. It is purely a compilation of material sent by many people to the Canberra Ornithologists Group mailing list. It has not been checked for accuracy nor its content verified in any way. If you wish to get material removed from the archive or have other queries about the list contact David McDonald, list manager, phone (02) 6231 8904 or email . If you can not contact David McDonald e-mail Andrew Taylor at this address: andrewt@cse.unsw.EDU.AU