| | | |
| --- | --- | --- |
| | canberrabirds | |
Pied Oystercatcher with bands
| | |
| --- | --- |
| To: | 'Lindsay Hansch' <>, 'COG-L' <> |
| Subject: | Pied Oystercatcher with bands |
| From: | Mark Clayton <> |
| Date: | Sat, 29 Aug 2015 06:08:47 +0000 |
Lindsay,
I have forwarded your message to the Australian Wader Study Group, which now deals directly with these sorts of records. Hopefully someone will get back to you with the original banding details. I am sure that they will also pass the record on to the Australian Bird and Bat Banding Scheme here in Canberra. I am sure people on the chat line will be interested in any details you receive.
Cheers,
Mark
From: Lindsay Hansch [
Sent: Saturday, 29 August 2015 3:53 PM
To: COG-L
Subject: [canberrabirds] Pied Oystercatcher with bands
I took the enclosed photo at the mouth of Bonville Creek near Sawtell (Coffs Harbour) recently. The leg bands are clearly visible and I wonder who if anyone may be interested?
Regards
Lindsay Hansch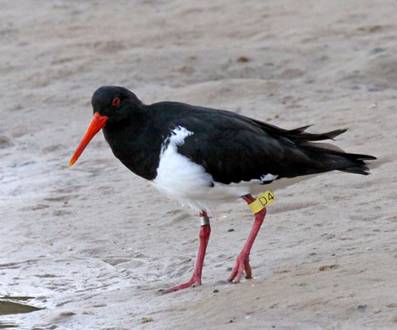 Admin
The University of NSW School of Computer and Engineering takes no responsibility for the contents of this archive. It is purely a compilation of material sent by many people to the Canberra Ornithologists Group mailing list. It has not been checked for accuracy nor its content verified in any way. If you wish to get material removed from the archive or have other queries about the list contact David McDonald, list manager, phone (02) 6231 8904 or email . If you can not contact David McDonald e-mail Andrew Taylor at this address: andrewt@cse.unsw.EDU.AU