| | | |
| --- | --- | --- |
| | canberrabirds | |
Caught bird
| | |
| --- | --- |
| To: | 'Mark Clayton' <>, "" <> |
| Subject: | Caught bird |
| From: | Geoff <> |
| Date: | Mon, 17 Aug 2015 03:51:48 +0000 |
Mark
I was originally attracted by a Wood Duck in a nearby tree. Then the Galahs came along. It is too high for me to get it out. Should I report it to someone or is it just bad luck?
Yes Sugar Gliders.
Geoff
From: Mark Clayton [
Sent: Monday, 17 August 2015 1:40 PM
To: 'Geoff' <>;
Subject: RE: [canberrabirds] Caught bird
Geoff,
The wing belongs to a Wood Duck and obviously has managed to get itself trapped by the looks of things. At this time of year holes are a valuable commodity with many hole nesting species starting to think very seriously about breeding, resulting in squabbles between different species. I assume the gliders you refer to are Sugar Gliders?
Cheers,
Mark
Does anyone know what belongs to this wing? It is caught in a hole in a dead tree about 25' from the ground.
A galah was screeching at the hole which caused 4 gliders to race out. I saw 2 glide to different trees and disappear into other holes. The galahs chased the gliders as they went into the holes.
Geoff
Attachment: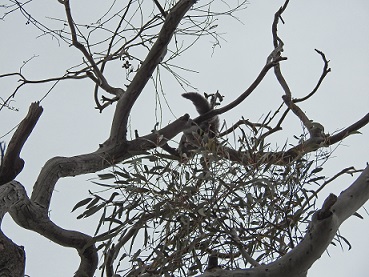 Description: Sugar Glider.JPG

ATT00001.txt
Description: ATT00001.txt
Admin
The University of NSW School of Computer and Engineering takes no responsibility for the contents of this archive. It is purely a compilation of material sent by many people to the Canberra Ornithologists Group mailing list. It has not been checked for accuracy nor its content verified in any way. If you wish to get material removed from the archive or have other queries about the list contact David McDonald, list manager, phone (02) 6231 8904 or email . If you can not contact David McDonald e-mail Andrew Taylor at this address: andrewt@cse.unsw.EDU.AU