| | | |
| --- | --- | --- |
| | canberrabirds | |
Walk to McKellar and Giralang ponds
| | |
| --- | --- |
| To: | COG List <>, COG Wednesday Walkers <>, gang-gang <> |
| Subject: | Walk to McKellar and Giralang ponds |
| From: | Martin Butterfield <> |
| Date: | Wed, 15 Apr 2015 21:21:41 +1000 |
There could be an "inter alia" in there!  The editors of Gang-gang may wish to use what follows as the trip report for this outing.
​​

30 members and guests assembled at the car park of the Belconnen Soccer Club for a walk around some of the damper parts of this area of Belconnen.  Once all had signed on and announced themselves we first headed to a little known pond in the Northern section of this open space.   The recent rains had restored some liquidity to this site.   Including the "car park list" we scored 16 species here - all pretty much as expected.

Knowing that the main McKellar Pond was the haunt of Australasian Bittern and Australian Little Bittern we took ourselves off  in that direction.   Alas, neither of the aforementioned were present.  Several more expected waterbirds were added together with Red-browed Finch and European Goldfinch.  As we moved towards the underpass to Ginninderra Creek a recently killed (fox being the most likely suspect) Nankeen Night-Heron was found.  

At least two White-faced Herons were controlling the frog population in the Creek and a Collared Sparrowhawk zapped past.  There was a good flow in the Creek following the rains but no exotic waterbirds were seen.  Auatralian Reed Warblers were heard making some of their quieter calls .  Making no calls at all - very surprisingly for this species - was a flock of 20 Little Corellas.

Our arrival at the Giralang Pond was rewarded by a Royal Spoonbill which moved around the pond eating as it went.  A Spotted Dove flew past and a rather late Shining Bronze-Cuckoo was disturbed from a tree on the Northern side of the pond.  Two raptors, identified as Collared Sparrowhawks, appeared to be in a courtship display fairly high above us.

We then passed under William Slim Drive to inspect the Palmerville area, hoping, unsuccessfully, for Cisticolas.  We did note or only flock of Yellow-faced Honeyeaters for the day here.

In total we recorded 44 species.
A full bird list by the 5 sites visited is attached and should be added to the appropriate page in the website.  I have done
a blogpost
with some quips and snaps and a little more info about the last site.
The editors of Gang-gang may wish to add the following to the Forthcoming Trips section.
The May Wednesday Walk will be to Stranger Pond and Pine Island.  A mix of waterbirds and woodland birds can be expected.  Meet on Don Dunstan Drive (see attached image) at 9am on 20 May.

150415 Summary of McKellar Giralang.xlsx
Description: MS-Excel 2007 spreadsheet
Attachment: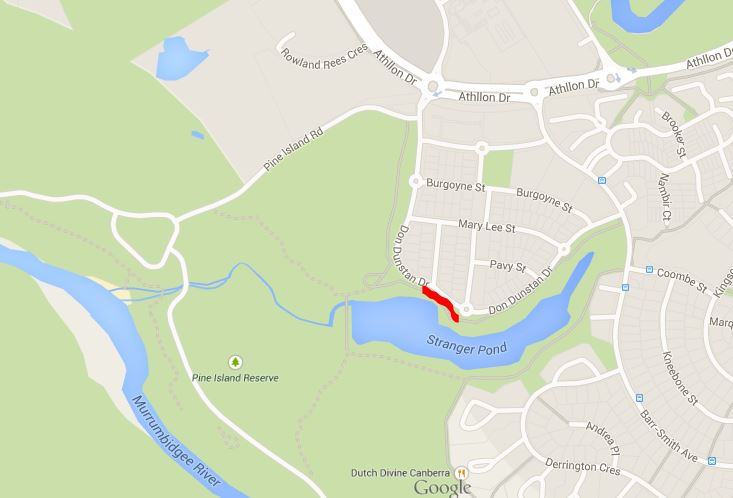 *******************************************************************************************************
This is the email announcement and discussion list of the Canberra 
Ornithologists Group.
Emails posted to the list that exceed 200 kB in size, including attachments, 
will be rejected.
When subscribing or unsubscribing, please insert the word 'Subscribe' or 
'Unsubscribe', as applicable, in the email's subject line.
List-Post: <>
List-Help: <>
List-Unsubscribe: <>
List-Subscribe: <>
List archive: <http://bioacoustics.cse.unsw.edu.au/archives/html/canberrabirds>
List manager: David McDonald, email <>
<Prev in Thread]
Current Thread
[Next in Thread>

Walk to McKellar and Giralang ponds, Martin Butterfield <=
Admin
The University of NSW School of Computer and Engineering takes no responsibility for the contents of this archive. It is purely a compilation of material sent by many people to the Canberra Ornithologists Group mailing list. It has not been checked for accuracy nor its content verified in any way. If you wish to get material removed from the archive or have other queries about the list contact David McDonald, list manager, phone (02) 6231 8904 or email . If you can not contact David McDonald e-mail Andrew Taylor at this address: andrewt@cse.unsw.EDU.AU