| | | |
| --- | --- | --- |
| | canberrabirds | |
Australian White Ibis
| | |
| --- | --- |
| To: | "'COG-L'" <> |
| Subject: | Australian White Ibis |
| From: | "Philip Veerman" <> |
| Date: | Mon, 29 Dec 2014 11:46:09 +1100 |
Good thought. I had not thought of that. Would seem unlikely but I wouldn't say no. Who knows, it could be as likely as my suggestions. If the bird could be found again it shouldn't be too hard to see. The photo shows as just black patches. If it is a hybrid, I would expect the dark areas to have some aspect of the distinctive feather pattern of the Straw-necked ibis (which is barred glossy dark green) rather than just black, but the photo is not clear enough to show that.
I remember the almost all black, pelican at Lake Tuggeranong years ago that gradually returned to normal.
Do White ibis and Straw-necked ibis ever hybridise? A summer holiday thought.
David R
From: Philip Veerman [
Sent: Monday, 29 December 2014 10:21 AM
To: 'Lindsay Hansch'; 'COG-L'
Subject: RE: [canberrabirds] Australian White Ibis
I can't tell from the photo if it is a young bird (excess black on wings and back is not a sign of being a young bird) but assuming the black is real, it is either exceptionally dirty, has been tampered with by someone or had a fight with a black paint tin or oil (they do get into garbage) or has an abnormality of an excess of melanin.
-----Original Message-----
From: Lindsay Hansch
Sent: Monday, 29 December 2014 9:54 AM
To: COG-L
Subject: [canberrabirds] Australian White Ibis
I took this photo at Lake Jerrabomberra this morning. I have never seen a juvenile White Ibis so not sure if this is one or a mismarked bird.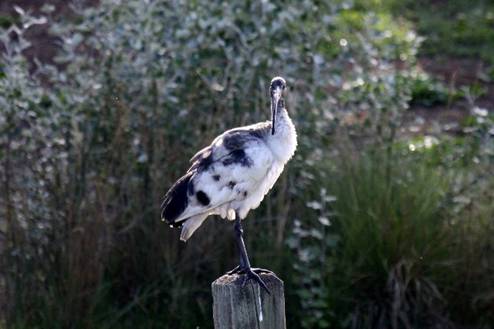 Any thoughts?
Lindsay Hansch
Admin
The University of NSW School of Computer and Engineering takes no responsibility for the contents of this archive. It is purely a compilation of material sent by many people to the Canberra Ornithologists Group mailing list. It has not been checked for accuracy nor its content verified in any way. If you wish to get material removed from the archive or have other queries about the list contact David McDonald, list manager, phone (02) 6231 8904 or email . If you can not contact David McDonald e-mail Andrew Taylor at this address: andrewt@cse.unsw.EDU.AU