| | | |
| --- | --- | --- |
| | canberrabirds | |
Campbell Park
| | |
| --- | --- |
| To: | COG list <> |
| Subject: | Campbell Park |
| From: | Robin Hide <> |
| Date: | Mon, 25 Aug 2014 06:05:41 +0000 |
This afternoon there was also a Fan-tailed Cuckoo near the houses on the Hackett side of the Majura-Ainslie saddle.
Robin Hide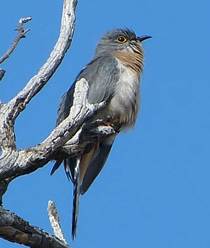 -----Original Message-----
From: Con Boekel [
Sent: Monday, 25 August 2014 2:58 PM
To: COG list
Subject: Campbell Park
The usual suspects but also: single Superb Parrot, Mistletoebird, Olive-backed Oriole, Flame Robin, Shining Bronze-cuckoo (feeding on psyillids on Blakely's Red Gum), Fan-tailed Cuckoo. Breeding activity seemed to be rampant.
Con
Admin
The University of NSW School of Computer and Engineering takes no responsibility for the contents of this archive. It is purely a compilation of material sent by many people to the Canberra Ornithologists Group mailing list. It has not been checked for accuracy nor its content verified in any way. If you wish to get material removed from the archive or have other queries about the list contact David McDonald, list manager, phone (02) 6231 8904 or email . If you can not contact David McDonald e-mail Andrew Taylor at this address: andrewt@cse.unsw.EDU.AU